Teseo Air – AP Aluminium Pipework

AP is a modular extruded aluminium tube of the latest generation developed by TESEO, available in diameters 20, 25, 40, 50 and 68 mm, with a complete range of accessories. AP can transport compressed air with a maximum pressure of 15 bar, vacuum and other non-dangerous gases. AP allows the construction of columns for descent from the main line, small distribution networks and distribution collectors for machines and control panels. AP tubes are assembled using joints equipped with tonic joints. They are locked by means of a fixing bracket that is supported in the grooves of the profiled tube, a system patented by Teseo air Srl.
The assembly of the AP tubes is extremely simple and quick and is carried out without special tools, threading or welding of other elements. The realisation of outlets for air extraction is obtained by drilling the aluminium profile where it is required and applying an outlet plate with a fixing bracket. This operation can be carried out at any time, even after installation has been completed.

WHY CHOOSE A TESEO MODULAR SYSTEM?
This modern distribution system makes it possible to reduce or completely eliminate "hidden" costs not identified during the investment phase:
– Costs caused by leaks, one of the most important costs in the operating budget of a traditional installation.
– The costs of air treatment and maintenance or repair of machines and tools.
– The costs of machine stoppages and external labour for each modification of the installation.
– The costs due to insufficient flow and high pressure drops due to friction on the internal walls of the pipe.
Awarded by the Industrial Forum for:
– Modern design
– Energy efficiency
– Possibility of recycling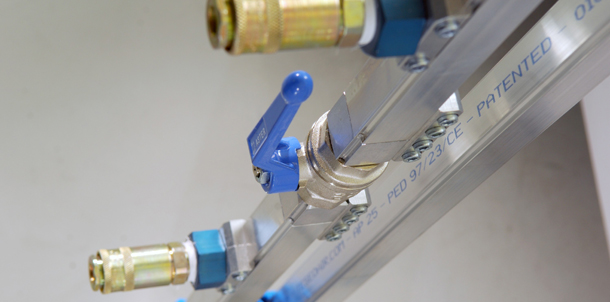 Quality and safety are two fundamental points of TESEO's philosophy, which to guarantee them has developed an ISO 9001 management system. In addition, TESEO has adopted a special philosophy of design, development and product control. The distribution systems are built in compliance with the safety requirements required by the standards in force and TESEO boasts several product certifications.
Manufacturer's website : Teseo
brochure : Teseo Air – A New Breath for AP68
brochure : Teseo Air – AP