Ecotechnics – ECK Bus Pro
Powerful performance for large installations
Ecotechnics' special product for refrigerant R134a. The ECK BUS PRO station parameters handle a larger amount of refrigerant from large A/C systems such as buses and trains.
Fully automatic equipment for the recovery, recycling and refilling of R134a refrigerant from large A/C systems such as buses and trains.
The refrigerant recovery rate is particularly high and is today an indispensable contribution to environmental protection.
The special high-pressure gear pump for refrigerant refilling with a capacity of 1kg/min, the large 40L internal storage cylinder and the 6m hoses are all designed to ensure that the refrigerant is always available at the right temperature.
allow you to work quickly and comfortably on very large A/C systems.

The alphanumeric LCD display guides the user through a logical and professional menu. Data entry or selection of options is done via a separate keyboard. Leakage monitoring with nitrogen or nitrogen-hydrogen offers maximum safety and is integrated as a standard feature. A printout of the protocol is made at the end of the test.
The pressure sensors can be easily calibrated. The evacuation of "non-condensable" gases from the inner cylinder is carried out automatically.
The functional design of this station is very easy to operate, takes up little space and allows easy handling in the workshop.
Maintenance work is as simple as possible.
The materials used are of high quality and make the station resistant.
---
Specifications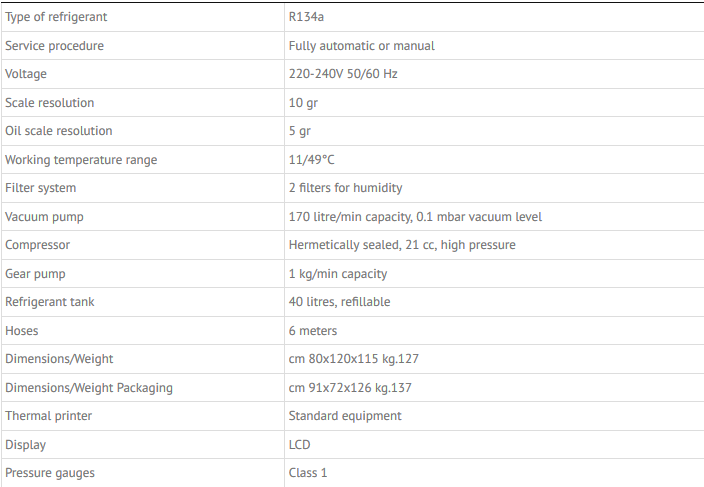 ---
Manufacturer's website : Ecotechnics
Product website : Ecotechnics – ECK Bus Pro
PDF product : Eck Bus Pro