Highlights:
• semi-stationary wash
• stationary wash
• used in short wash halls too

Large fleets require fast and effective washing technology. The big challenge is performing a complete wash on the front, side, roof and rear surfaces of the vehicles in order to minimise operating costs over a short washing time. In order to achieve this, the MAGNUM- 5 can be operated in the bus wash operating concept (semi-stationary operation) and / or in the commercial wash operating concept (overrun wash).

The innovative 5 washing roller concept of the MAGNUM- 5 provides the perfect combination of quality and quantity for vehicle washing and is therefore especially recommended for cleaning in shift operation at transport companies, as a powerful commercial vehicle wash unit or for large courier companies to clean their fleet. Furthermore, the MAGNUM-5 also has all of the equipment features of the basic MAGNUM version.
---
The fastest of its kind

The optimum brush contact pressure
The optimum brush contact pressure is controlled by our electronically-controlled wash brushes and provides you with a contour following and gentle vehicle wash. Therefore, even the difficult contours on your vehicle can be washed gently and effectively.

Automatic start
In our semi-stationary wash concept, the driver no longer needs to get out. The automated washing process starts immediately after positioning the vehicle. This therefore ensures the fastest wash times.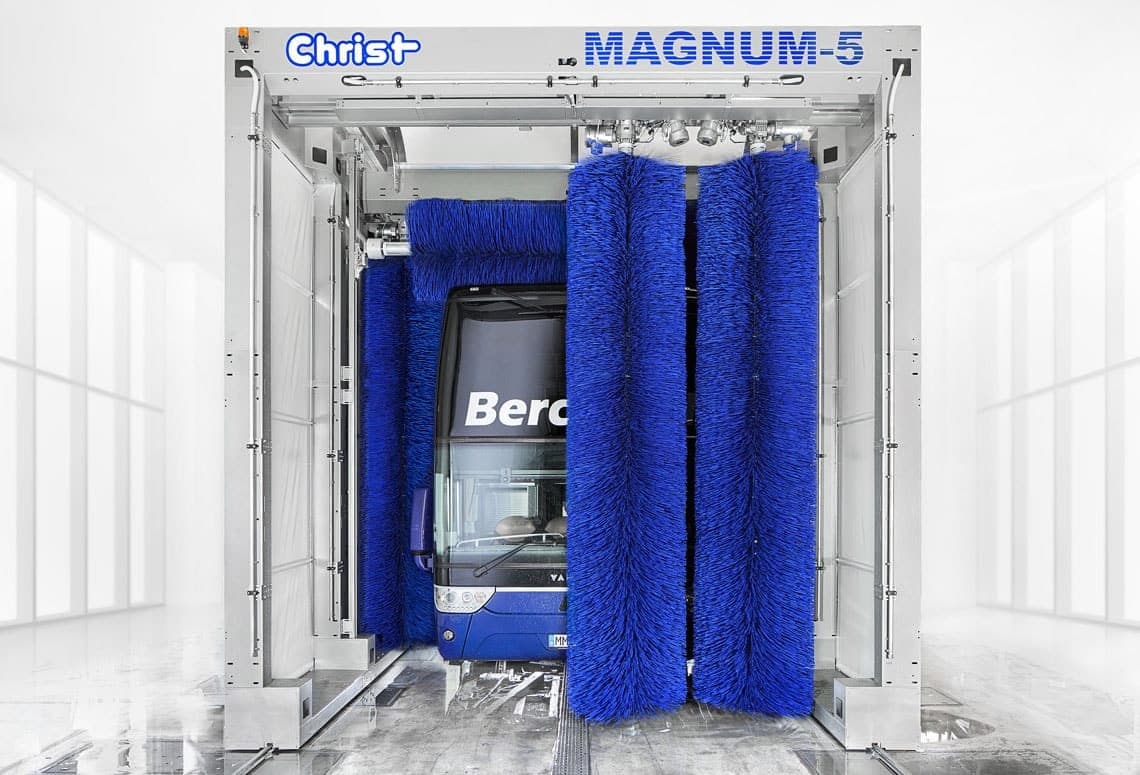 ---
Manufacturer's website : Christ-Wash-System
Product website : Christ-Wash-System-Magnum-5
---
Avec un chauffeur de bus
---
Explications techniques
---
Maquette