Your self-service car washes
Invest in clean cars
Vehicle washing in the self-service wash bay is all the rage
More attractive wash programmes :

Improved cleaning performance
Appealing look and brightness in the wash box
Operating and payment convenience
Professional equipment for vehicle interior cleaning
SKYWING
High-quality steel construction with unique design :
Modern industry design with wing geometry
Light and transparency for a good wash feeling
Spacious work area with a wash box width of 5,100 mm and a passage height of 3,100 mm at the exit side
Bay partition walls: available in different versions
Optional: HORIZON and WASH VEGAS LED lighting systems

Lower operating costs, higher profits
Additional turnover of up to 30 % thanks to wash bay innovations such as the BUBBLEGUN programmes, underbody wash lance in the open sky wash bay, compressed air guns and mat cleaners.
Savings of up to 30 % on oil and gas consumption thanks to modern calorific value heating technology and BUBBLEGUN programmes that do not require hot water.
Standard: frequency converter (FC) for the HP supply units. Potential electricity savings of up to 70 % due to photovoltaic modules (use of own electricity).
Savings on fresh water of up to 70 % (and proportional sewage charges) thanks to the low-pressure supply of the BUBBLEGUN and pressure reduction (FC) for the 'Stain-free gloss rinsing' programme.
Potential savings of up to 70 % on washing chemicals for BUBBLEGUN and regeneration salt for the softening installation. We recommend the BUBBLEGUN chemical range from Christ CAR CARE.

With XXL foam, washing becomes a pleasure!
Fresh air and thick foam give you the certainty that the dirt will be perfectly removed. The XXL foam is applied effectively with a specially developed foam spray lance on the vehicle. The dried dirt is then soaked and professionally dissolved. The pollutant charge can be easily removed with the high-pressure lance. The use of the separate foam spray lance ensures perfect foaming and low chemical consumption. By investing in the XXL Christ foam spraying system, the operator has the opportunity to offer a higher average cleaning price and thus amortise his overall investment more quickly.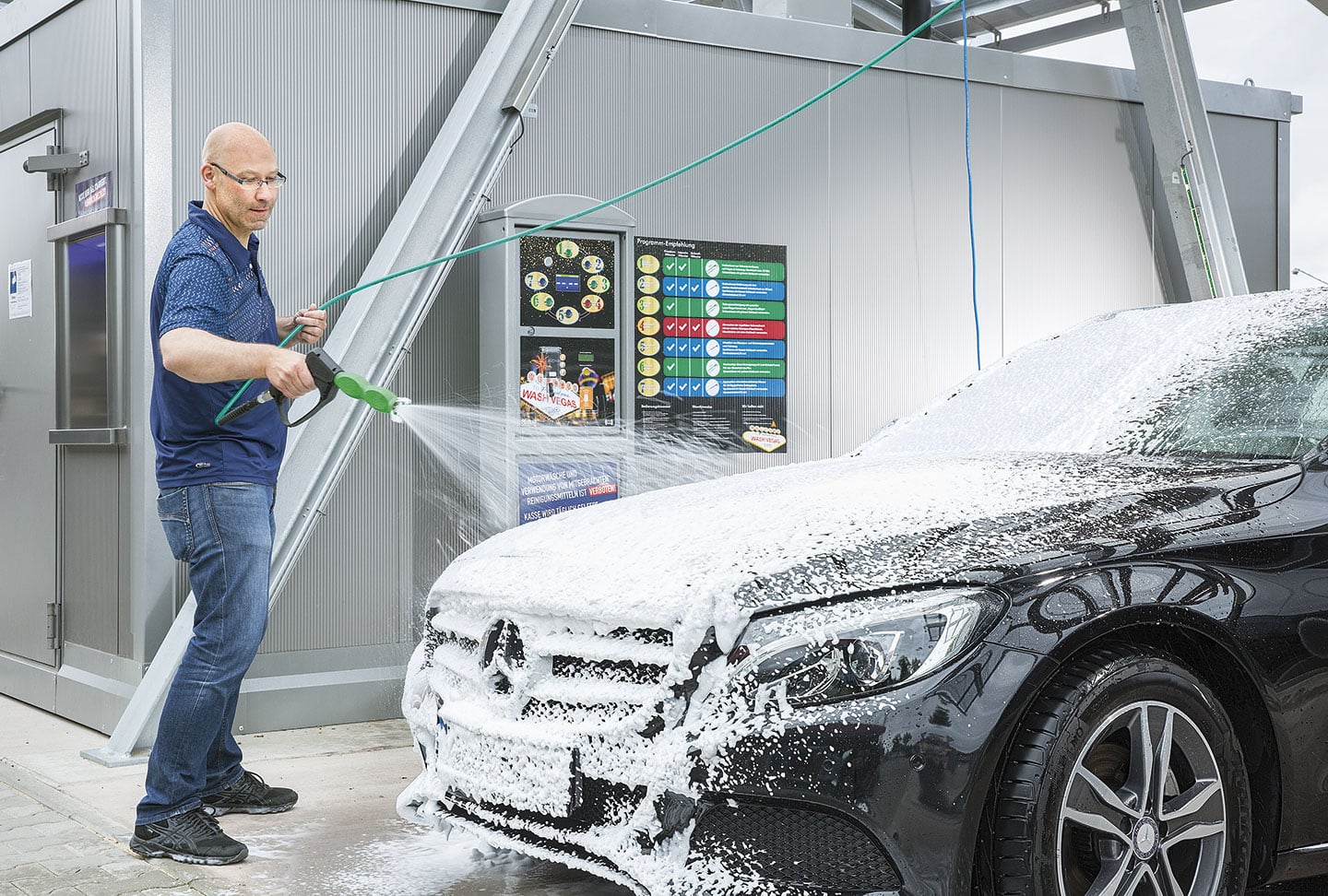 ---
Manufacturer's website : Christ-Wash-System
Product website : Christ-Wash-System-Skywing
---