Ecotechnics – ECK 1900 Premium
The timeless solution for the modern workshop
The ECK 1900 PREMIUM station is the new model designed for different types of refrigerant. Innovative functions, simplicity and the high quality standard of the components give the ECK 1900 PREMIUM an extraordinary price/performance ratio.
Fully automatic A/C recharging station for recovery, recycling and recharging of different types of refrigerants. The innovative and exclusive solution allows the adjustment of R134a or HFO1234yf gas directly during on-site activation with the activation kit.
The ECK 1900 PREMIUM station offers an excellent price-performance ratio: it is very easy to use thanks to its 5″ touch screen and to its upgradeable options; the machine can be configured to meet the most specific or future needs. Upgrading with the optional gas analyser detects the different components of the refrigerant and the result provides information on their percentage. In addition, the analyser also offers the advantage of being a separate device (no contamination of the station), is perfectly integrated inside the station and does not take up much space.
external ace. The hybrid kit and WI-Fi connectivity complete the key points of this station's options.

The station is standard equipped with the universal oil in an airtight bottle recommended by Ecotechnics (AEK285-N) and a refillable bottle. The Ecotechnics C.A.R. method (Compressor Assisted Refill) allows a quick and precise gas refill even in high outdoor temperature conditions. Thanks to the advanced technology and the innovative solenoid valve system, the ECK 1900 PREMIUM has 20% lower energy consumption than previous models.
 The functional design of this station is very easy to operate, takes up little space and allows easy handling in the workshop. Maintenance work is as simple as possible. The materials used are of high quality and make the station resistant. This special solution in the Ecotechnics "Black Line" for modern workshops attaches great importance to cost-effectiveness. A fully automatic air conditioning station that integrates all solutions for the management of the refrigerant HFO1234yf or R134a.
---
Specifications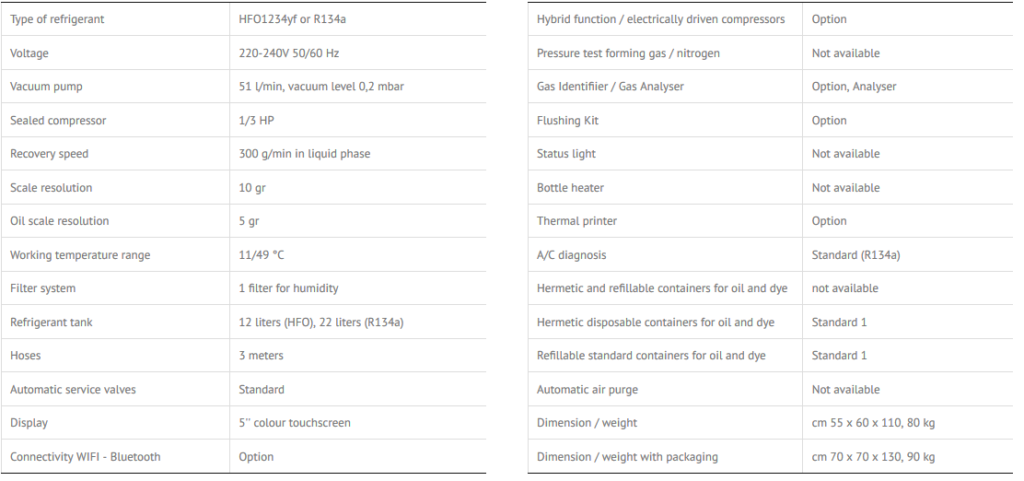 ---
Manufacturer's website : Ecotechnics
Product website : Ecotechnics – ECK
PDF product : ECK 1900 Premium