Ecotechnics – ECK 3900 Premium
The profitable work tool
This station is in line with the highest level of performance and efficiency in the "Black Line" design. The study of this station skilfully combines the various components to offer a particularly attractive product equipped to manage R134a orHFO1234yf.
Fully automatic unit for recovery, recycling and recharging of refrigerant HFO1234yf or R134a. The refrigerant recovery rate is particularly high and today represents an indispensable contribution to environmental protection.
The patented, compact, aluminium distributor block with its short pipes and connections improves efficiency, reliability and speed of service.

The 5″ colour LCD screen guarantees simple and intuitive menu navigation. The different service phases and options are indicated by graphic icons and brief descriptions.
The patented hybrid function for managing the A/C system of hybrid or electric vehicles is a highly efficient system for cleaning the connections, hoses and internal connections of the station.
Other functions are standard: three airtight bottles, nitrogen or nitrogen-hydrogen leak check and status indicator light.
The station can be easily upgraded within 10 minutes with the gas identifier, protecting it from contaminated refrigerants to improve both safety and environmental protection as a priority. It also avoids unexpected costs resulting from repair services on a contaminated machine.
This special solution offered by Ecotechnics for today's and tomorrow's workshops places great importance on speed and cost-effectiveness. A fully automatic air conditioning station that integrates all solutions for professional management of the refrigerant HFO1234yf or R134a.
---
Specifications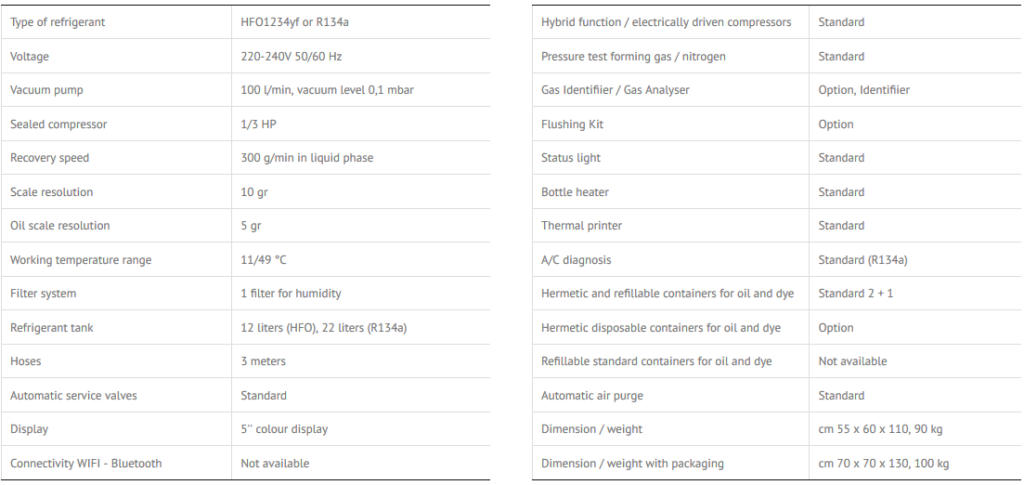 ---
Manufacturer's website: Ecotechnics
Product website : Ecotechnics – ECK 3900
PDF product : Eck 3900 premium f