Sefac – Lifting mobile Column with one post
PMX 4 10 030 column lift
The SEFAC PMX 4 10 030 has a lifting capacity of 3 tonnes, permitting the lifting of small utility vehicles.
---
An ideal lifting equipment for utility vehicles and camper vans
Indispensable in your garage, these column lifts allow you to carry out all kinds of operations on utility vehicles and camper vans. These SEFAC column lifts are fitted with narrow forks for optimum grip of small dimension tyres.
---
PMX 4 10 030 Column lift – simple and reliable in use
The use of four PMX 4 10 030 column lifts (to form a set) is particularly simple and reliable when used by a mechanic (very rapid equipment training).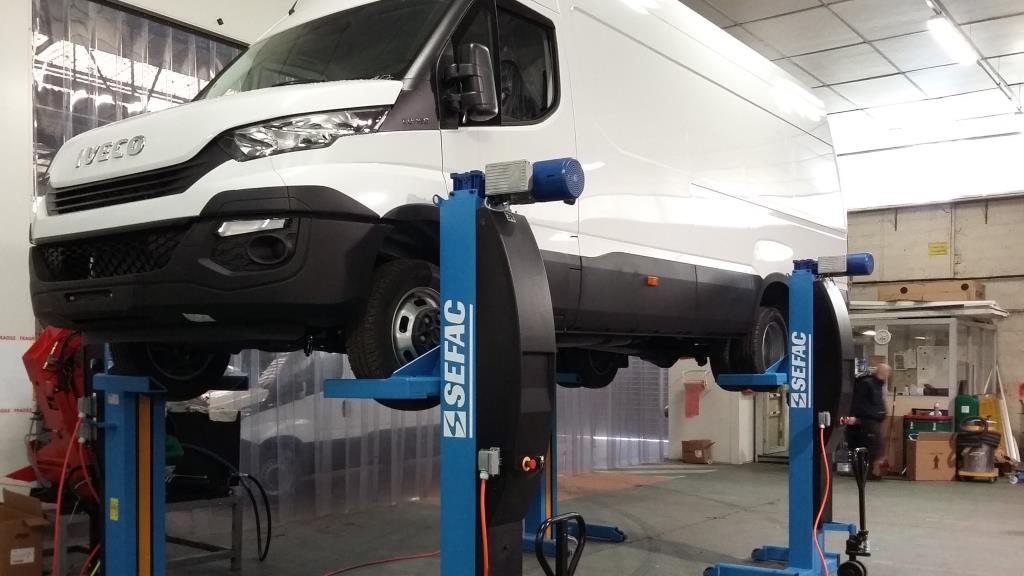 ---
The PMX lifting column
PMX columns are easily handled by a single operator. They facilitate all operations and are an advantageous substitute for an inspection pit. PMX columns are suitable for operations on the lightest vehicles in your fleet (up to 11 tonnes per axle).
They are traditionally used in the maintenance workshops of passenger carriers (buses, coaches, etc.).
With a capacity of 5.5 tons per column, this product is proven. It has been in our range of lifting equipment for more than a decade. This column is versatile because it can be used as a 4, 6 or 8 column bridge. It can therefore be used to lift vehicles with 2, 3 or 4 axles.
---
The PMX column has the essential features of a lifting column
This reference focuses on the essential features of a lifting column. Thus its operation is truly intuitive. Furthermore, it has only one wearing part (the bronze nut), thus reducing maintenance to a minimum.
---
The wireless lifting column SW2
SEFAC SW2 heavy duty lifting columns with a 7.5 tons capacity offer a wide range of applications for garages.
---
SW2 wireless system, the versatile lifting solution
SW2 lifting columns are a versatile, flexible solution that can be used indoors, outdoors or even away from energy sources. Wireless, they avoid cables lying around in the maintenance centre. It is a machine that will guide the mechanic step by step in all its uses (intuitive screen), for interventions on trucks, coaches, buses…
---
Flagship of the SEFAC production, its communication system is patented.
The SEFAC wireless columns, run on on-board batteries. They represent the flagship of SEFAC's production. These lifting columns are the lightest of their category. The electromechanical ball screw system guarantees a very low maintenance (a simple lubrication every 5 years).
The patented SWiP communication system allows a very fast implementation (only a few seconds) and a secure operation. The displacement sensor avoids any confusion between the columns. The SW2 will allow you to carry out lifts up to 8 columns per bridge with an infinite number of bridges per workshop. In particular, it is a lifting equipment adapted for buses and coaches whose bodies do not allow direct access to their engines.

---
The PMZ lifting column
The PMZ column is the ideal tool for maintenance technicians in truck workshops. It is a considerable asset in the prevention of MSDs (musculoskeletal disorders) for people working underneath a vehicle. The technician works in a standing position and adjusts the vehicle's lift height to suit his or her own height. In this way, he can carry out brake inspections, work on wheels, etc. under optimal conditions.

---
Thanks to its high capacity, it covers most lifting requirements
PMZ columns are suitable for operations on the most common types of vehicles such as coaches, buses up to 16.4 tons at the axle. With its high lifting capacity (8.2 tonnes per column), the PMZ column is generally suitable for the heaviest vehicles in conventional fleets (and therefore logically the lightest) and thus covers all the most common requirements. As the columns are mobile (each column is equipped with a drawbar), it can be adapted to all vehicles regardless of the length and distance between the axles.
---
The PMZ column is low-maintenance.
PMZ columns can be used as a bridge of 4, 6 or 8 columns. They offer a wired operation and their implementation is completely intuitive. The maintenance of this column is reduced to a minimum: an automatic lubricator greases the bronze nut (the only wearing part of the machine).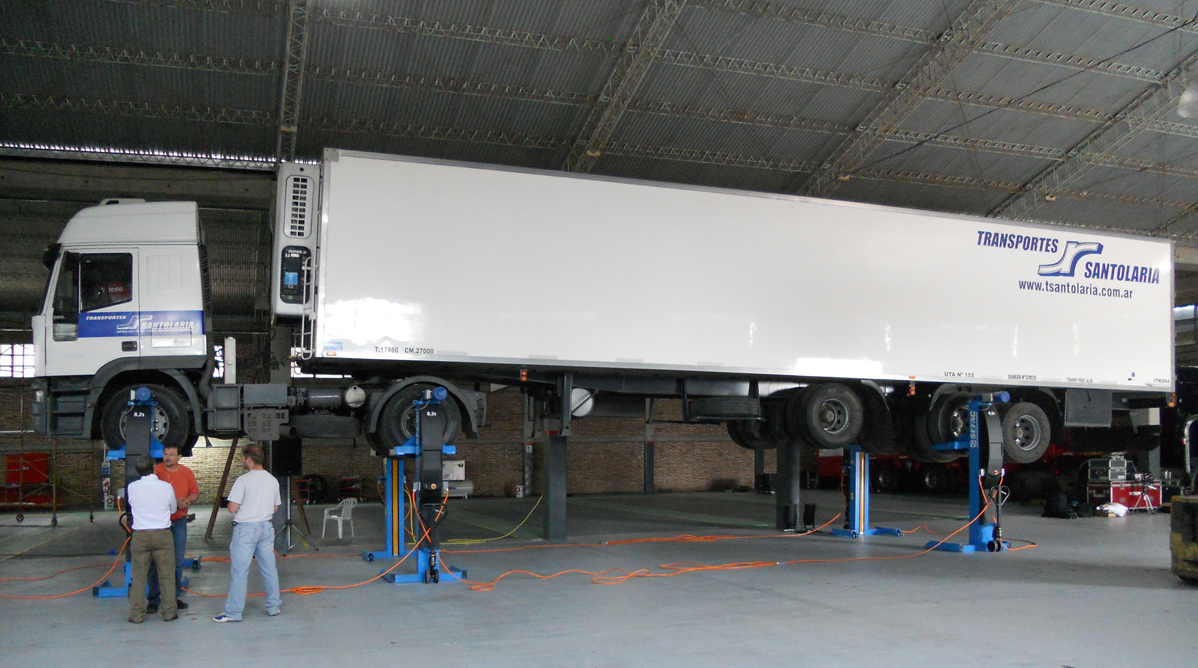 ---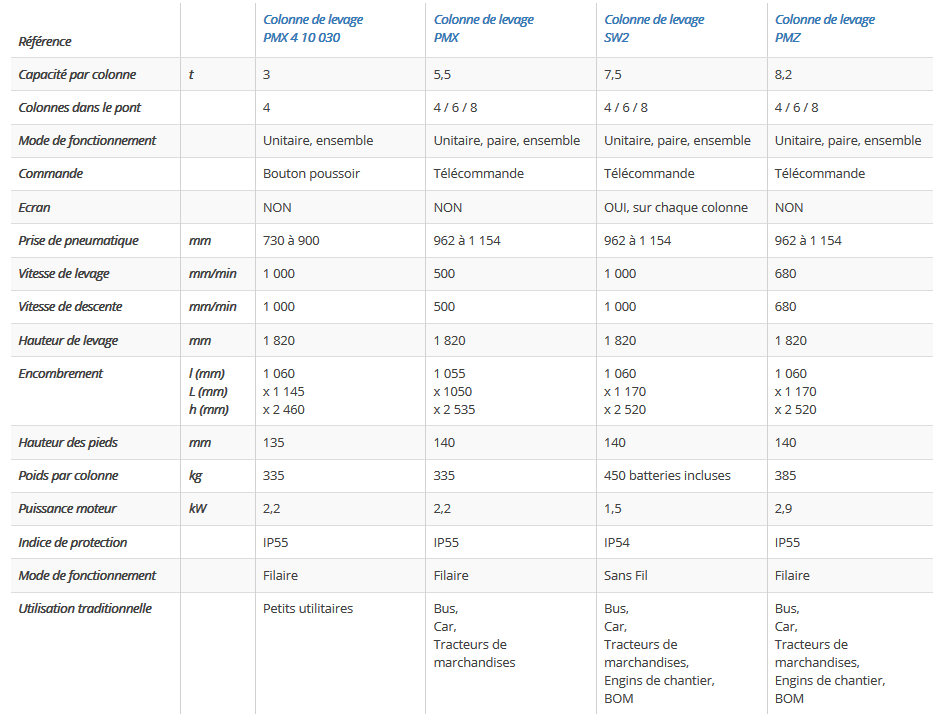 ---
Manufacturer's website: Sefac
Product website: Sefac – Lifting column PMZ