Pneumatic Tilt Back Post Tyre Changer for Wheels up to 26″ Diameter
PRODUCT DESCRIPTION
The pneumatic tilt back post racing type tyre changer is the top of the line John Bean tyre changer that can handle wheels up to 26″ diameter (optional up to 30″).
---
Spécifications
Certified by wdk for gentle and user-friendly mounting and demounting of UHP and run-flat tyres in line with OEM specifications
With pneumatic mounting tool MH 320 pro and "plus" kit (standard equipment) for handling of UHP and run-flat tyre systems (additional optional adaptors required for PAX and CSR tyres)
With optional jaws for wheels of up to 30″ diameter
One-part mounting head vertically and laterally adjustable in spaced-apart position relative to the rim
Double-acting bead breaker cylinder
Machine post tilted backwards / forwards upon pedal operation (pneumatic) and pneumatically locked in working position
Inverter technology for two turntable speeds optimises torque and speed depending on the requirements of mounting and demounting operations
Roller-supported horizontal arm
Self-centring four-jaw turntable controlled via two clamping cylinders for correct clamping of the wheel
Plastic protection inside jaws and on mounting head to avoid damage to alloy rims
Bead breaker arm adjustable in two positions
Large bead breaker blade, supported in three joints
Pedal-controlled inflator
Ergonomic user-friendly position of pedals
Tool box with integrated precision pressure gauge
Including servicing unit, WAVE tyre lever, plastic protections for mounting head, steel roll, plastic protections for jaws, plastic rim protection, roller board, quick exchange device for steel and plastic mounting heads
Top-side bead seating kit
Col
---
BEAD BRAKER BLADE
Owing to its special shape the bead breaker blade handles rims most gently and facilitates operation considerably.
---
GP models
A direct burst of compressed air facilitates bead seating. The GP models offer a top-side bead seater with a 24-litre tank.
---
OPTIONAL QUICK-EXCHANGE DEVICE WITH PLASTIC HEAD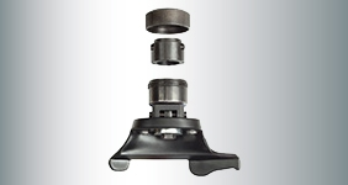 Owing to the quick exchange device, steel and plastic mounting heads can be quickly swapped over
---
PLUS CONFIGURATION

The plus models are certified by wdk. They come standard with MH 320 pro and plus kit that enable the correct mounting and demounting of UHP and run-flat tyres.
---
PNEUMATIC VERTICAL ARM

Fast and ergonomic: the pneumatic vertical arm facilitates positioning of the mounting head on all wheels.
---

---
Manufacturer's website : JohnBean
Product website : JohnBean-T6000-BS-PLUS
Product PDF : JohnBean-T6000-BS-PLUS