JohnBean – T5325B 2S Plus
Pneumatic Tilt-Back Post Tyre Changer with PROSpeed™ Technology
PRODUCT DESCRIPTION
The tyre changer for use in general service shops and tyre shops with medium tyre service volume – with pneumatic tilt-back post, 22" outside clamping capability and PROSpeed™ technology
---
Spécifications
Certified by wdk for gentle and user-friendly mounting and demounting of UHP and run-flat tyres in line with OEM specifications
With pneumatic mounting tool MH 320 pro and Plus kit (standard equipment) for handling of UHP and run-flat tyre systems (additional optional adaptors required for PAX and CSR tyres)
PROSpeed™ – the new exclusive self-adjustable speed system with inverter technology:
– Automatic speed control by inverter that maximises speed depending on the torque applied
– First speed as low as 7 rpm for critical tasks
– Second speed automatically adjusted to between 7 and 18 rpm depending on the torque applied
Double-acting bead breaker cylinder
Mounting head adjustable in spaced-apart position relative to the rim
Self-centring four-jaw turntable
Plastic protection inside jaws and on mounting head to avoid damage to alloy rims
Pedal-operated tyre inflator with pressure gauge fitted on tower
Quick-inflating valve
Outer clamping range up to 22″
With top-side bead seating and inflating kit
Pedal-operated pneumatic tilt-back post
Post pneumatically locked in working position
Bead breaker adjustable in 3 positions
Capable of mounting / demounting the majority of wheel assemblies in the market
Optional wheel lift CW1015
---
BEAD BRAKER BLADE
Owing to its special shape the bead breaker blade handles rims most gently and facilitates operation considerably.
---
GP models
A direct burst of compressed air facilitates bead seating. The GP models offer a top-side bead seater with a 24-litre tank.
---
OPTIONAL QUICK-EXCHANGE DEVICE WITH PLASTIC HEAD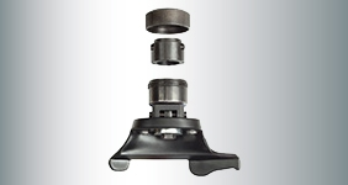 Owing to the quick exchange device, steel and plastic mounting heads can be quickly swapped over
---
PLUS CONFIGURATION

The plus models are certified by wdk. They come standard with MH 320 pro and plus kit that enable the correct mounting and demounting of UHP and run-flat tyres.
---
PROspeed™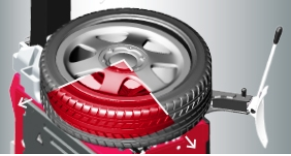 The innovative technology – patent-protected – that optimises the torque applied to the wheel and automati cally sets the maximum rotation speed of the wheel accordingly.
---

---
---
Manufacturer's website : JohnBean
Product website : JohnBean-T5325B-2S-PLUS
Product PDF : JohnBean-T5325B-2S-PLUS