Car lift ECH
The ECH lift is designed for the vertical movement of vehicles and their passengers and can be perfectly installed in a building with individual or collective parking (when it is impossible to install an access ramp) or to replace an existing car lift.
The design of the ECH lift is of superior quality compared to other equivalent products on the market, due to its high stability.
Indeed, the presence of two symmetrical jacks allows to support a load up to 3500 kg, and a cabin width up to 3 meters.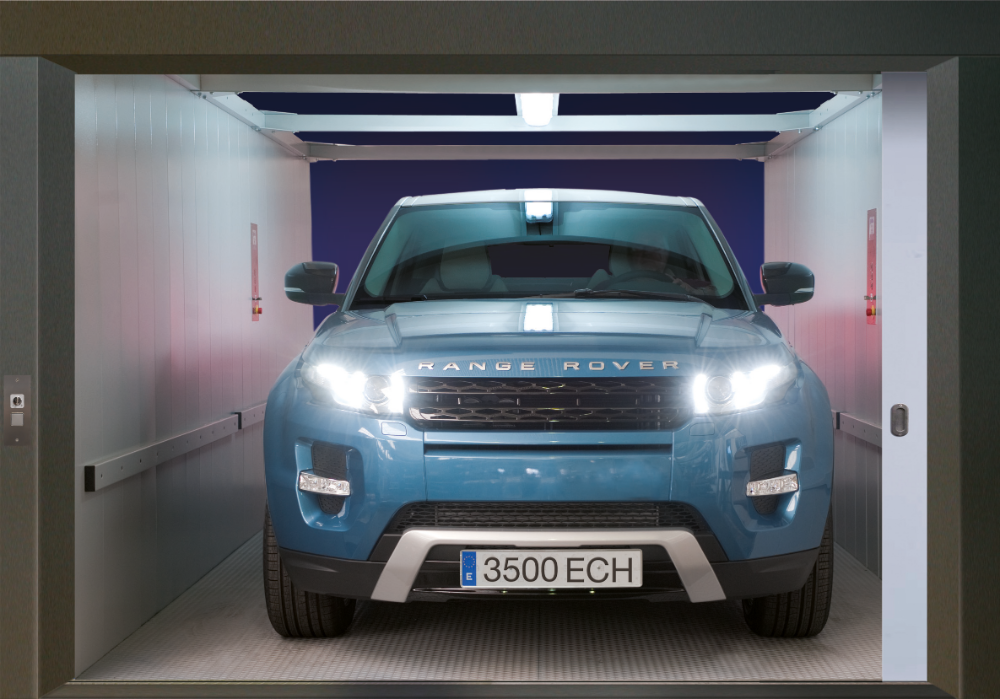 ---
CABIN
Walls finished in epoxy/polyester paint in light grey RAL 7035 with protection rails in sheet metal of the same finish (optional, protection rails in wood).
loor in ribbed sheet steel with grey paint finish.
Lighting by fluorescent lamps recessed in the upper reinforcements of the cabin without ceiling. Two push-button boxes with key contact (priority), emergency stop, emergency lighting, intercom, overload indicator and push-buttons.
In-cab "hold action" control.
---
ASSEMBLY
Ease of installation. The first section of the guide structure and cylinder is delivered pre-assembled at the factory and requires little work when installed in a pit.
Machinery local cabinet in option
---
SAFETY DEVICE
Rupture valves, Lift with EC type examination.
Iso-leveling with doors open, automatic return to the lowest level.
Automatic evacuation and opening of the doors in case of power failure.
Class II photoelectric barrier.
---
BEARING
Automatic hinged sliding doors equipped with electric locks.
The doors retract laterally between the guide structure and the shaft wall.
High-strength 40 mm thick door.
Landing button box with "Call / Send" push-buttons and presence indicator.
Remote control by remote control (Transmitter / Receiver, optional).
---
---

---
Manufacturer's website : Hidral
Product website : Hidral-ECH
PDF product : Hidral-ECH