32″ automatic tyre changer with 2nd generation "Leva la leva" (Without lever) technology
Even more performing, even more ingenious
New automatic tyre changer with 2nd generation "Leva la leva" (Without lever) technology for vehicle, SUV and commercial vehicles wheels up to 32".
Many technical innovations: dynamic bead breaking device with a dual bead breaker disc, newly designed head group, more performing wheel support plate clamping, reinforced structure, great attention to ergonomics and control availability.
All of this means a faster operating speed without risks to the operator and the rims, even during the most critical phases, great simplicity of use and universality, for equipment whose features can be used 100%.
---
CONSOLE
Intuitive and comprehensive – Multi-function control console that groups all exercise controls. It is ideal for dynamic bead release and for the possibility of match mounting between tyre and rim, thanks to the two dual-control discs.
---
CONTROLLED PENETRATION DOUBLE BEAD BREAKER
Dynamic calibration device with double specular calibrating disc The radial positioning of the discs is facilitated by an automatic device able to avoid any manual positioning of the operator. Controlled penetration (Patented) precision, speed and repetition are guaranteed by the patented calibration system and by the two perfectly specular discs.
---
MOTORIZATION WITH MOTOR/REVERSER SYSTEM
The right torque at the right speed (7-18 RPM).
---
ELEVATOR
Effortless – The lift allows all types of wheels to be positioned on the self-centering device without any effort.
---
TET GROUP
The dismantling procedure does not cause any change in the work movements and definitively eliminates any physical effort on the part of the operator thanks to the Leva la leva (No lever) technique applied to the turret (Patented).the assembly procedure does not cause any change in the movements, practicality and speed of execution.
---
WHEEL LOCK SAFE AND UNIVERSAL
The self-centring plate allows quick locking as well as relief of both flanks without having to turn the wheel. The constant working height (except for overturned rims) has been studied to offer perfect ergonomics to the operator's movements, for all types of wheels.
---
HEEL PRESS (OPTIONAL)
Heel press with adjustable working height
The shape of the press is ideal for RFT tires.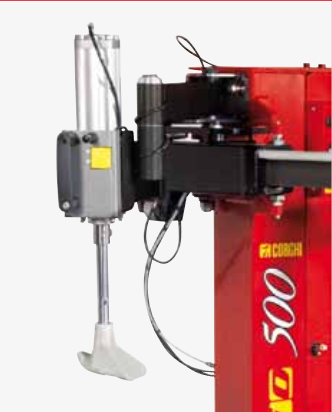 ---
ERGONOMICS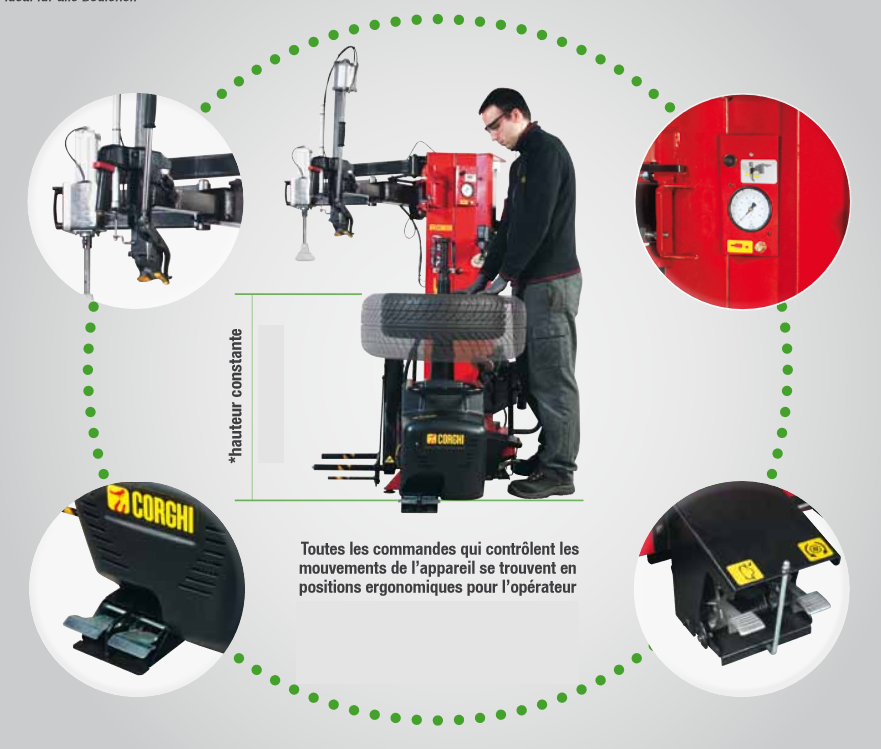 ---
SPECIFICATIONS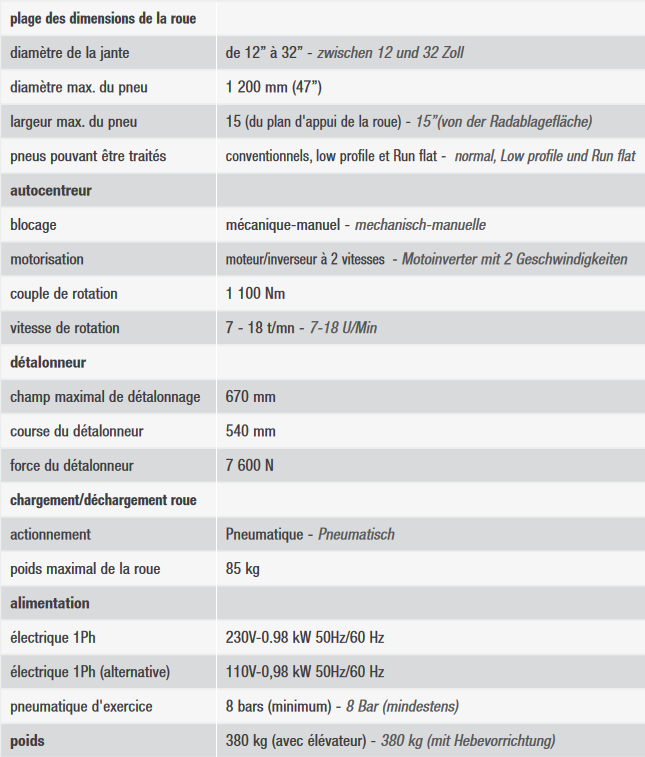 ---
---
Manufacturer's website : Corghi
Product website : Corghi – Artiglio500
Product PDF : Corghi – Artiglio500