Automatic tilting back tyre changer for rims up to 22".
Automatic tyre changer suitable for all car, SUV, van and motorcycle wheels.
Available in one-speed motor version and in 2V version with two-speed motor and tubeless inflating device TI.
Extractable pedal controls.
Specifications

Automatic tyre changer suitable for all cars,
SUVs, vans and motorcycles, allows the user to mount and dismount all types of wheels.
Available in single speed or 2V versions with dual speed motor and with TI tubeless inflation system.
---
TOOL-HOLDER SHAFT
At the touch of a button, the tool-holder head can be moved twice in relation to the rim (up and backwards) and the head can be locked both horizontally and vertically at the same time.
Mechanical balancing of the tool-holder shaft with spring.
The horizontal arm slides on a bearing to facilitate the movement of the tool.
---
MOUNTING TURRET
Mounting tools with the new profile adaptable to new rims and tyres. Interchangeable plastic protectors to protect the aluminium rims during mounting/dismounting.
---
SELF-CENTRING
The self-centring device is able to block the latest generation of aluminium rims from the outside as well as from the inside, without damaging them, thanks to the special plastic protections supplied on request. In the TI versions, the air injectors placed on the claw supports automatically follow the rim diameter, making inflation easier.
---
BEAD BREAKER

The bead breaker, of great power, is operated by a double-acting cylinder (D.186 mm) with deep-drawn stainless steel body. The bead breaker blade can be equipped, on request, with a plastic protection to protect the aluminium rims.
---
EXTRACTABLE CRANKSET
Extractable crankset, a great comfort for any inspection in the control area.
---
VERSION TI / TI MODELLE
In the TI versions, the air tank for the tubeless inflation system, with a large capacity (16 litres), is built in accordance with the EN standard according to the EEC directive 87/404/EEC.
The pedal for tubeless inflation is positioned on the side of the machine (A), so as not to be accidentally triggered.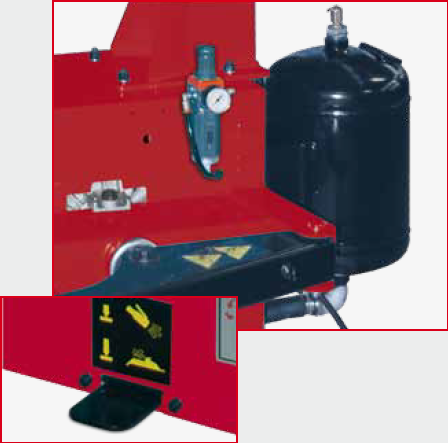 ---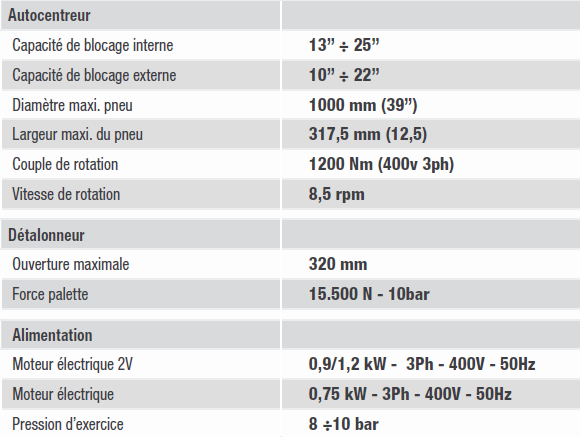 ---
Manufacturer's website : Corghi
Product website : Corghi – A222
Product PDF : Corghi – A222