TEN – TEMP1000 Temperature sensor 
TEMP1000 Temperature sensor 
---
The TEMP1000 is a non-contact infrared temperature sensorfor professional automotive applications.The sensor calculates the surface temperature based on the emitted infrared energy of the object to be measured.Specially developedfor the automotive environment, the TEMP1000 saves valuable time during periodic inspections and other emission test applications where vehicles engine temperature recordingis obligatory. The TEMP1000 can be used in conjunction with TEN gas analysersand smoke meters.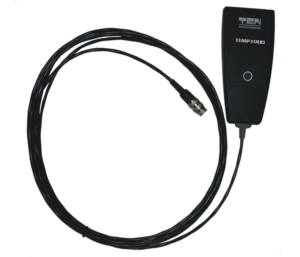 The sensor measures quick and accurate and displays a resolution of one degree Celsius. The integratedpeak hold function saves the recorded maximum temperature during a test. By pressing the push button the peak hold function resets and the TEMP1000 switches over to actual temperature reading.
The stainless steel optical sensor (IP65), distance – spot ratio of 10:1 and pre-programmed emissivityof 0,8 for engines, make the TEMP1000 one of the most reliable automotive temperature sensors!
---
TECHNOLOGY WITH THE FUTURE IN MIND
Technical specification :

Environmental rating: IP65 (NEMA-4)
Ambient temperature:-20…75 °C
Relative humidity:10…95 %, non condensing
Material optical sensor:stainless steel
Material housing:black
ABSTemperature range:0 – 250°C (factory programmable up to 350°C)
Spectral range:8…14 μm
Distance – spot ratio:10:1
Emissivity:0.8 (factory pre-programmed for engines)
Power supply:12 Vdc (10 mA)
Output signal:0-10 Vdc
---
Manufacturer's website : Ten-Automotive
Product website : Ten-Automotive-TEMP1000