Diesel smoke emission centre EDA 2000
---
The most advanced diesel engine analyser for testing passenger cars as well as commercial vehicles. Utilizing the very latest "fully digital" processing technology, the EDA2000ensures that smoke emissions levels are measured quickly and accurately.
Standard Features:
– Présentation en couleur
Full-colour presentation
-Powerful PC system
-Quick and easy operation-Simple "step by step" test routines
-Deluxe accessory cabinet
-A4 colour printer
-Fully aluminium smoke meter
-Voltmeter-RPM and Oil temperature measurement
-Complies with the latest standards
-CE approved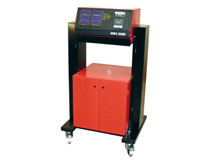 ---
TECHNOLOGY WITH THE FUTURE IN MIND
TheEDA 2000 is a high performance diesel engine emission centre incorporating the very latest digital processing technology for quick and accurate measurement of vehicle emissions. Approved for mandatory vehicle testing throughout Europe. Together with the high resolution full colour monitor, qwerty keyboard and the A4 colour printer, the EDA 2000 is the Most user friendliest smoke meter for mandatory vehicle emissions testing and fault diagnosis of today.The unique design and robust construction of the smoke chamber offers an opacity measurement facility which is 'virtually' maintenance free
With a comprehensive range of measurement parameters available the operator can easily perform the following tests:
1.Official governmental mandatory testing
2.Continuous data measurement.
3.Graphic test.
Overall the EDA 2000 is probably the most versatile, user-friendlyand flexible diesel smokeanalyser currently on the market. With proven reliability and a competitive price the EDA 2000 is a sound investment for the future.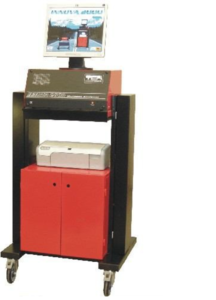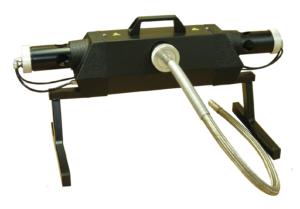 ---
OPTIONS :
NER Zero Emission:
An exhaust extraction system designed to allow an accurate and clean measurement of diesel exhaust emissions within the workshop environment.
BT Kit:
Bluetoothkit for wireless communication between INNOVA2000 and the smoke meter.
HGV Exhaust probes:
27 mm probes for trucks, 1 or 3,5 metres length.
EOBD scan tool:
TÜV approved EOBD tool forcommunication between the EDA 2000 and the vehicle.
RPM Adaptors:
Optical and car battery sensing systems.
---
Specifications :
•Puissance absorbée : 220 / 250
•Vac Fréquence : 50 Hz
•Puissance maximale : 400 W
•RPM : 100 – 9990 1/min
•Température de l'huile : 0-150 ºC
•Température des cellules : 0-150 ºC
•Opacité : 0-99 % / 0-9,99 m-1
•Poids : environ 50 k
---
Manufacturer's website : Ten-Automotive
Product website : Ten-Automotive-EDA-2000