Balancing machine with mechanical clamping system, brake and motion control II
---
Your advantages:
Polar diagram for optical unbalance determination
Extremely fast measuring time (about 1 second)
10 times higher measurement accuracy
8 "TFT screen with reflection protection
Touch screen and turn-push-button for entering all wheel data
Wheel scanning device for direct reading and retrieving the balancing planes
Intelligent turning system to reach compensation positions (MOTION CONTROL II)
Presentation of results in "grams", "ounces" or in "grams centimeters"
15 ALU – standard programs with editor
Unbalance compensation, eccentricity compensation for balancing system and balancing body
llustration shows additional accessories – Side pillar left and Caddy right.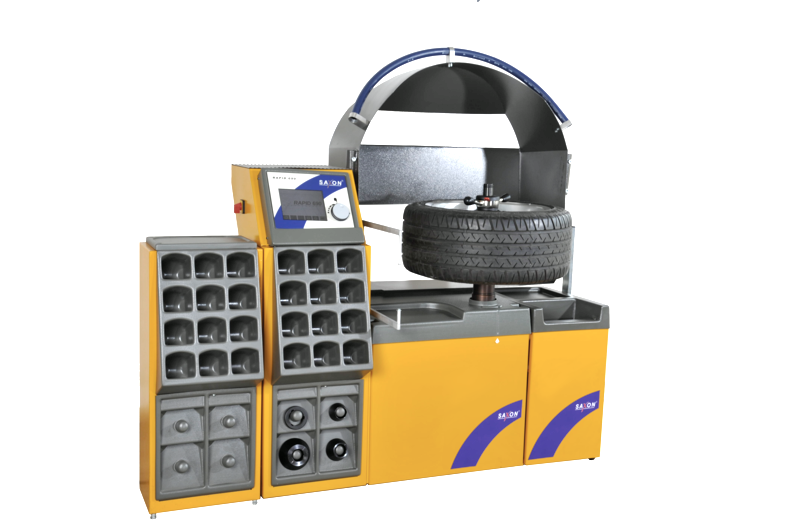 ---
Description :
The Rapid 690 B-MC is a fully digitally working, stationary balancing machine for the tire service or the car workshop. The revised concept of the previous Rapid 6xx series now combines extremely fast operation with previously unprecedented ergonomics while maintaining high accuracy in terms of balancing. Completely new developed electronics now allow working on a reflection-free 8″ TFT display and only a single control element as rotary-push button.
The now available wheel scanning device can directly read the balancing levels, or as previously only the outer dimensions of the wheel. Combined with the new Elektronic, the measurement accuracy for the imbalance quantity as well as the angular position is increased tenfold. With a polar diagram, it is now much easier to detect the imbalance size and position after the measuring process.
A new INTELIGENT MOTION CONTROL II as spindle control ensures that the determined compensation point for the attachment of the counter weight moves in the shortest possible way to the desired position. But also when turning to the zero point the balancing machine puts all together. It's this way possible to evaluate the unbalance positions found just with the polar diagram. The special vertical balancing spindle still uses the effect of self-centering to guarantee the best measurement results and high repeat accuracy.

---
Options :
• Various cones up to 132mm diameter
• Type clamping flanges
• quick release nut "Pro – Grip"
• 3 – 4 – 5 hole quick release
• Clamping cap for ALU wheels
• Motorcycle Clamp "Pro – Bike" (Standard Set)
• Expansion set for scooters
• Motorcycle tensioning device for one-arm swing (basic package)
• Teaching for adhesive weights
• Pneumatic wheel lifter (HV 120)
• Accessories caddy
• Accessory column
• External software for presentation of results, quality assurance, archiving and central wheel data maintenance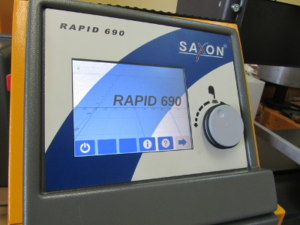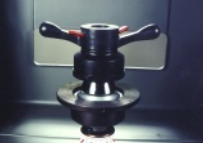 ---
Specifications

Body width 02 – 14 inches
Body diameter 10 – 30 inches
Measuring time approx. 1.2 s plus positioning
Ad range 0.01 – 999 g / oz / gcm
Max. body weight 65 kg
Max. body diameter 860 mm
Electrical connection 240 V 1Ph * / 50 … 60 Hz
Motor power / mains connection 0.55 kW / 10 A
---
Dimensions :
Width 1380 mm
Depth / hood open 750 mm
Height / hood open 1570 mm
Net weight 172 kg
---
Manufacturer's website: Saxon
Product website : Saxon – Rapid 690