Retention bin RZW 10
Stand-by tray for optimum storage of oil and grease dispensing devices (e.g. ÖAM models) in the stand-by state and as a working and washing place for parts washers (e.g. RKR and TWA models).
---
Description
Retention bin with grid without feet, galvanized.
For all mobile oil and grease dispensers when not in use, for compliance with regulations according to WHG, or as a working and washing place for all RKR and TWA models (up to TWA 280).
Tank capacity: 270 litres.
Load capacity max. 1000 kg / wheel pressure max. 2 t on load cube 200 x 200 mm
Weight approx. 210 kg
Dimensions: approx. 2840 x 1340 x 82 mm (L x W x H)
RAPID sumps are tested according to Ü-Zeichen, TÜV-Hessen, WS-Ü 12/12-01 in accordance with Building Regulation List A, Part 1, current no.: 15.22
EWith regard to the permissible size of the total volume stored in the collection sumps, the relevant regulations, VAwS and TRbF, must be observed in detail.
---
Access ramp available in option
---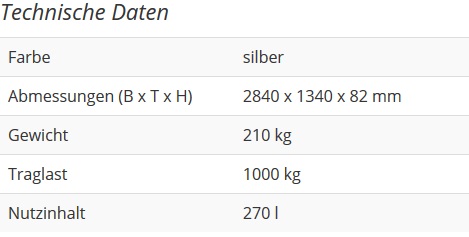 ---
Manufacturer's website : Rapid