Model OP 160 ED/1
Description
Electric feed pump for lubricating oils – especially engine, hydraulic and transmission oils – for connection to pressurized oil lines.
Return hose, wall bracket
On/Off switch
Wired ready to plug in
Power 0.55 kW / 400 V
Connection to alternating current and three-phase current
Oil pressure max. 10 bar
Flow rate up to 9 ltr./min. depending on viscosity
Including pump controller type DW 2
---
Connections :
Oil connection (pressure side): G 3/4″ IG
Oil connection (suction side): G 3/4″ IG
Pump control type DW 2 :
Pressure-dependent switching
Safety valve
Relief valve
Pressure gauge
For a 400 V drive, up to approx. 15 ltr./min.
Be Careful :
RAPID oil pumps are only suitable for self-lubricating fluids, e.g. lubricating oil or radiator antifreeze concentrate without the addition of water.
---
lso available in 0.75 kW / 400 V and 1.1 kW / 400 V versions.
---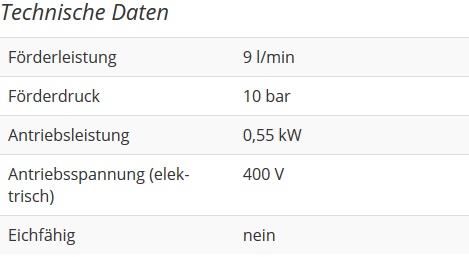 ---
Manufacturer's website : Rapid