---
Reduce life-cycle costs!
Thanks to cycling control ode and high storage density, the new generation of SECOTEC refrigeration dryers requires less than 97 W for every m³/min of air to be dried (ISO 7183 A1) – almost regardless of load.
In contrast to other typical systems on the market, excess cooling power is not wasted, but rather used to cool down a thermal mass. Once cooled, it in turn supplies cooling for compressed air drying, eliminating the need for additional electric power.
Furthermore, the new design ensures minimal maintenance requirement and service work is made quick and easy.
---
SECOTEC – saving energy under all conditions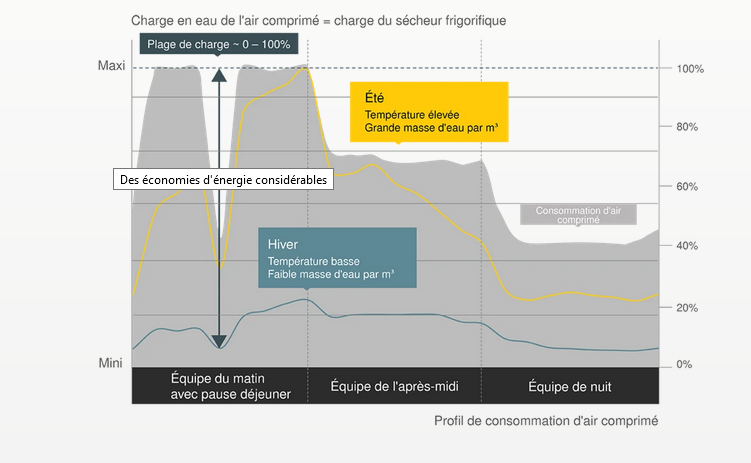 The load on a refrigeration dryer doesn't just depend on the volume of compressed air to be dried (grey area), but more importantly depends on how much water the incoming compressed air contains. The volume of water (moisture) increases as the temperature rises, so the load on refrigeration dryers increases dramatically when ambient temperatures are high, such as during summer (yellow curve).
Conversely, when the temperature falls in winter (turquoise curve), there is less load on refrigeration dryers. To maintain a stable pressure dew point throughout all these fluctuations, refrigeration dryers should always be designed to provide sufficient performance during peak load times, and should also have additional capacity in reserve.
Like the flow rate and temperature range, refrigeration dryers are always operating within the load range of 0 to 100 %. Because SECOTEC storage control ensures energy is only used as needed across this entire load range, users benefit from exceptional savings.
---
Maximum energy savings thanks to storage control
The duty-cycle of refrigeration dryers is always fluctuating between 0 and 100 %. Unlike conventional partial-load control systems, SECOTEC storage control precisely adjusts electrical power consumption during all load phases.
This allows SECOTEC refrigeration dryers to save almost 60 % of energy costs compared to refrigeration dryers with hot gas bypass control running at an average of 40% of capacity.
In contrast to conventional systems, the thermal mass in SECOTEC dryers always remains cool. This means compressed air can be dried effectively even during start-up phases. The high-quality insulation around the thermal mass also helps to keep energy use to a minimum. With SECOTEC refrigeration dryers, compressed air drying takes place with outstanding energy efficiency and it's especially gentle on the equipment thanks to the high thermal mass capacity.
---
Optimal drying with low-wear operation
SECOTEC refrigeration dryers ensure stable pressure dew points in all load phases. Dried compressed air can cool to a temperature of + 3°C (= achievable pressure dew point) without the moisture in the air condensing. Even at higher ambient temperatures, this ensures optimal protection for downstream compressed air systems and consumers.
Conventional refrigeration dryers with switching operating modes, but without an additional thermal mass, use the heat exchanger material itself as a thermal mass. In these dryers it is therefore necessary to switch the refrigerant compressors and fan motors on and off much more frequently in order to maintain the required cooling performance. To reduce switching frequency and wear, the refrigerant circuit therefore only switches on at much higher pressure dew points. The resulting fluctuations in the pressure dew point negatively affect drying performance. This can be risky, since corrosion can take hold even with relative compressed air humidity of 40 % – corrosion can therefore occur even without condensate formation.
SECOTEC refrigeration dryers, on the other hand, ensure material-friendly operation thanks to their high thermal storage capacity. Once the thermal mass has been charged, the refrigerant compressor and fan motor can remain switched off for much longer without impacting pressure dew point stability.
---
Equipment
Refrigerant circuit
Refrigerant circuit consisting of
Scroll compressor
Aluminium micro-channel condenser with fan
Safety pressure switch
Thermal mass
Filter dryer
Thermostatic expansion valve
SECOPACK LS aluminium heat exchanger system
Temperature and pressure transducer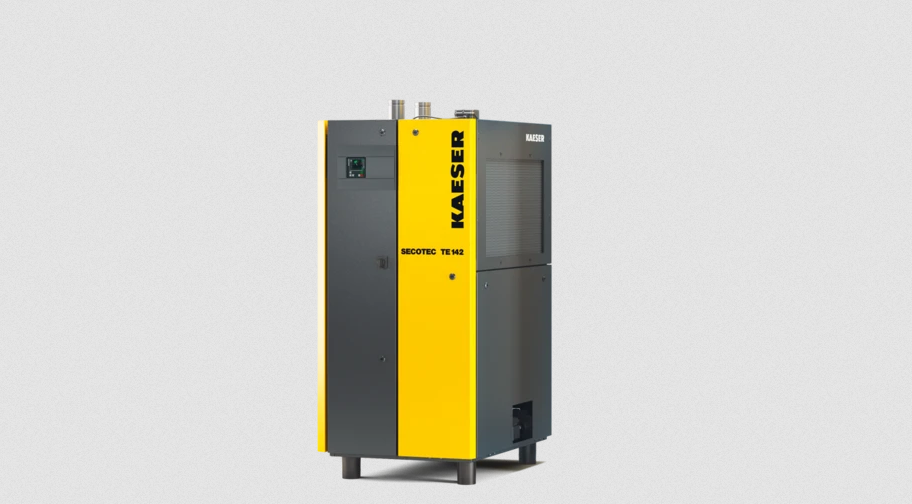 SECOPACK LS
Air/air and air/refrigerant heat exchanger in aluminium block design
Integrated thermal mass chamber with phase change material
Condensate separator
Heat insulation
SIGMA CONTROL SMART
Electronic control with colour display
Language-neutral menu navigation
Dew point trend display
P&I diagram displaying current operating data and messages
Event memory
Operating hours counter
Maintenance timer
Floating relay contacts
"Fault" and "Refrigerant compressor running" service messages 
"Maintenance/warning" and "High pressure dew point" warning messages
Operating hours counter
Maintenance timer
Condensate drainage
ECO-DRAIN 31 Vario electronic condensate drain with tap on condensate inlet, incl. insulation of cold surfaces
Enclosure
Powder-coated housing
Removable panel for straightforward electric connection
Efficient condenser cleaning
Removable side panel serves as main access point to the interior
Machine mounts
Connections
Corrosion-resistant compressed air piping
Bulkhead pipe fitting for external condensate line connection
Cables for mains connection on rear panel (cut-outs in the unit's top metal panel for alternative connection from above)
Electrical equipment
Electrical equipment and testing to EN 60204-1 "Safety of machines"
Control cabinet to protection rating IP 54
Options and accessories
Refrigeration dryers for use in ambient temperatures up to 50 °C
Water-cooled refrigeration dryer (TF series)
Compressed air connections left (TF series)
Replacement pipework kit TF 173, 203, 251 (pre-assembled) (TF series)
Adjustable machine mounts
Integrated transformer with primary voltage of 200 V – 440 V
Integrated transformer with primary voltage of 500 V / 3 Ph / 50 Hz and 575 V / 3 Ph / 60 Hz
Silicon-free design (VW Plant Standard 3.10.7)
Modbus TCP communication module
---
Design and Function
---

---
Product PDF : Kaeser – TE