Kaeser – Stationary workshop compressors
A sure fit for even the smallest workshop
Stationary EUROCOMP series reciprocating compressors are designed and built for continuous use in workshops. For straightforward installation Kaeser offers flexible air receiver installation options. Choose between the following versions:
A horizontal compressed air receiver: the most common version for larger spaces
A vertical compressed air receiver: the small footprint version for smaller spaces
Units that can be integrated or added into existing compressed air systems
The compressor blocks feature the following performance parameters:
Pressure: 10/15 bar
Flow rate: 112 – 1050 l/min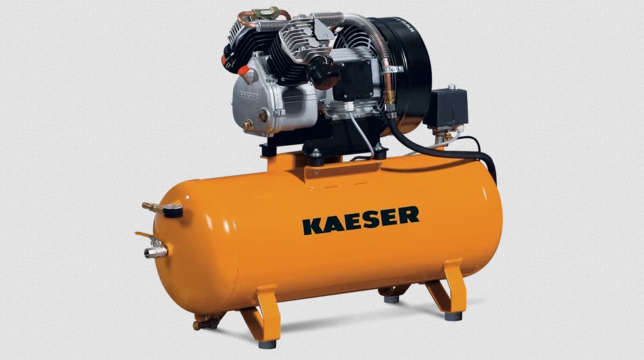 ---
Your advantages
Small space? No problem!
The vertical air receiver compressor version requires a footprint of just 0.85 m²!
Extend the service life of your tools:
The highly efficient cooling system of our stationary workshop compressors keeps compressed air and oil temperatures to a minimum. In turn, this ensures longer service life for both the compressor and connected compressed air tools.
Valves with reliable sealing:
We use stroke-limited valves with stainless steel valve reeds in our stationary workshop compressors for improved heat dissipation and prevention of coking. This also significantly improves valve sealing properties and valve service life.
---
Équipements
Compressor
Air-cooled compressor block with oil ring lubrication (oil-injection lubrication up to 2.4 kW)
Inlet air filter with silencer
Aluminium cylinder heads and additional cooling pipes ensure excellent heat dissipation
Multi-chamber, aluminium ring cooler also serves as a fan guard (3 kW model upwards)
Lightweight, low-noise reed valves
Oil filler, oil vent, oil drain plug and oil level sight glass
Direct coupling of compressor and motor
Compressor, motor and pressure receiver fitted with anti-vibration mounts and flexible hose connection between compressor and air receiver
Anti-vibration mounts for air receiver
Motor
Four-pole, 1500 strokes per min., three-phase 400 V / 50 Hz
Protection rating IP 54, type B 15
Integrated axial fan for compressor and motor cooling
Options (extras)
Sound enclosure
Operating hours counter
Alarm contact
Air receiver with integrated electronic condensate drain
Bolt-down machine mounts
Food-grade or synthetic oil
3 m or 5 m connection cable, with/without CE plug
Oil level monitoring with automatic switch off triggered by insufficient oil level
---
Versions
Horizontal version

The horizontal air receiver versions of EUROCOMP reciprocating compressors are popular for workshop applications.
Vertical version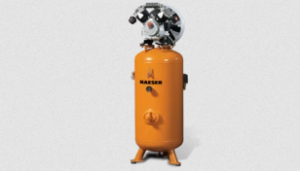 The space-saving version with vertical air receiver. All air receivers, whether vertical or horizontal, feature a corrosion-resistant internal coating (up to 350 l).
Base-mounted version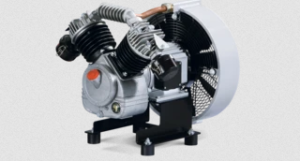 Perfect as replacement equipment, or for connection to existing systems with an available compressed air receiver, base-mounted units are also available for stand-alone use.
Optional sound enclosure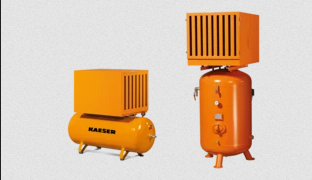 The highly-effective sound enclosures for EUROCOMP compressors can be installed optionally ex-works; they can also be retrofitted quickly and easily.
---
Accessories
Star-delta starter
Control cabinet with automatic star-delta protection combination
Dust- and waterproof to IP 54
With KAESER CONTROL operating hours counter and monitoring module
(motor power of 5.5 kW or higher required)
Electronic condensate drain
Level-sensing controlled ECO-DRAIN condensate drain
Complete set for installation on air receiver
Including all assembly components and fittings
Compressed air dryer

Additional compressed air drying is essential to avoid production downtime and interruptions, as well as to reduce costly maintenance and repair work. Kaeser compressed air dryers are the perfect addition to EUROCOMP reciprocating compressors.
Air receivers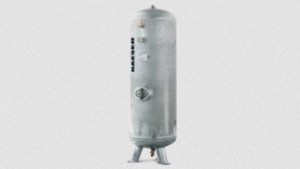 EUROCOMP versions are available with horizontal or vertical air receivers. Hot-dip galvanizing ensures optimal corrosion resistance. The air receivers are designed in accordance with AD 2000 to allow for long inspection intervals.
---
Manufacturer's website : Kaeser
Product PDF  : Kaeser -EUROCOMP