Kaeser – CLASSIC series workshop compressors
Outstanding quality with great value
We have designed CLASSIC series compressors especially for small, up and coming trades businesses. The product range focuses on common sizes allowing us to deliver exceptional value for money.
Our CLASSIC workshop compressors feature the following performance parameters:
Pressure: 10 bar
Displacement: 210 – 460 l/min
They are especially suitable for automotive workshops as well as for construction and renovation tasks. CLASSIC series compressors supply energy to the following compressed air tools:
Paint spray guns and spray guns
Tyre inflator with pressure gauge
Blow guns
Impact wrenches
Chipping hammer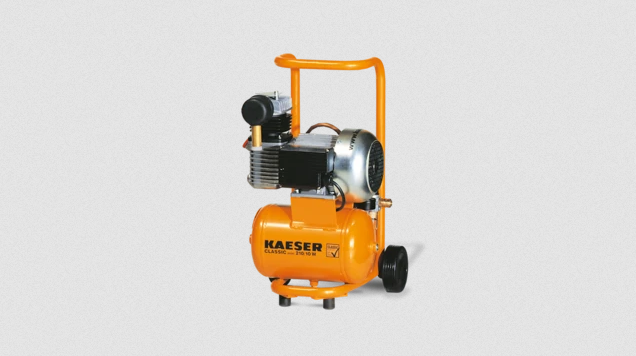 ---
Your advantages
Unparalleled quality at an affordable price:
Kaeser's CLASSIC series compressors combine great quality with exceptional value at prices that are attractive even to small companies. A highly durable Kaeser compressor block forms the heart of each compressor, all of which are produced, assembled and tested at the main plant in Coburg, Germany.
A carefree compressor that lasts:
High-quality materials and precision machining ensure reliable operation and long service intervals (oil changes only required every 2 years or after 1000 hours of operation). CLASSIC series compressors therefore provide complete peace of mind when it comes to ensuring a reliable supply of quality compressed air.
---
Schematic illustration
Silenced air intake filter
Compressor block
Maintenance-free 1:1 direct drive
Fan guard
Pressure switch
Filter pressure regulator with quick-release coupling
Safety valve (not visible)
Powder-coated air receiver, internally coated
Sound & vibration dampers
Oil filler with vent
Oil drain plug
---
Manufacturer's website : Kaeser
Product PDF : Kaeser – Classic