INGTOP Métal – Service pits with an electrically controlled roller shutter JSR 60
SERVICE PIT WITH AN ELECTRICALLY CONTROLLED ROLLER SHUTTER – JSR 60

---
Technical description
SERVICE PIT DIMENSIONS
Width 1.4 – 1,5 m
Height 1.5 m
Length 7 – 40 m
Pitch between HEB 140 – U 180 sections – 940 mm
Loading capacity – maximal load 30.000 kg
Load from axles 6 x 10.000 kg
Load from lifting jack for a wheel 4 x 4.000 kg
Material
quality S 235
Sections U 140 – U 180
Frame metal sheet 4 mm thickness
Total mass with axial cases 4.900 – 28.000 kg
(without grid flooring, width 990 mm)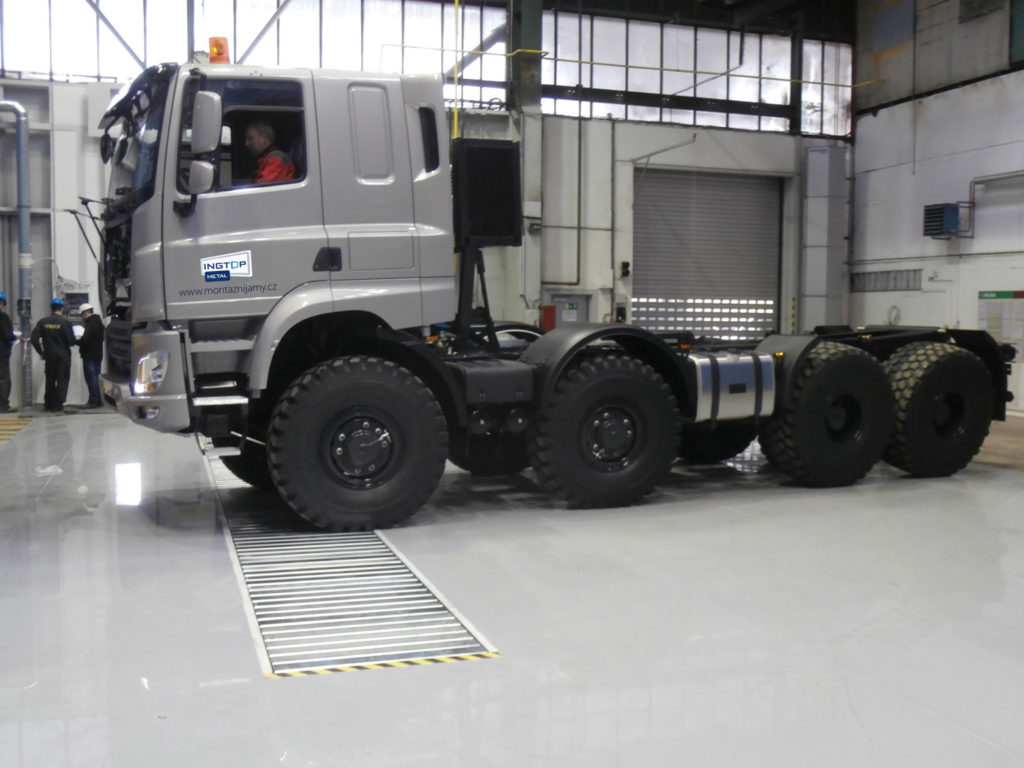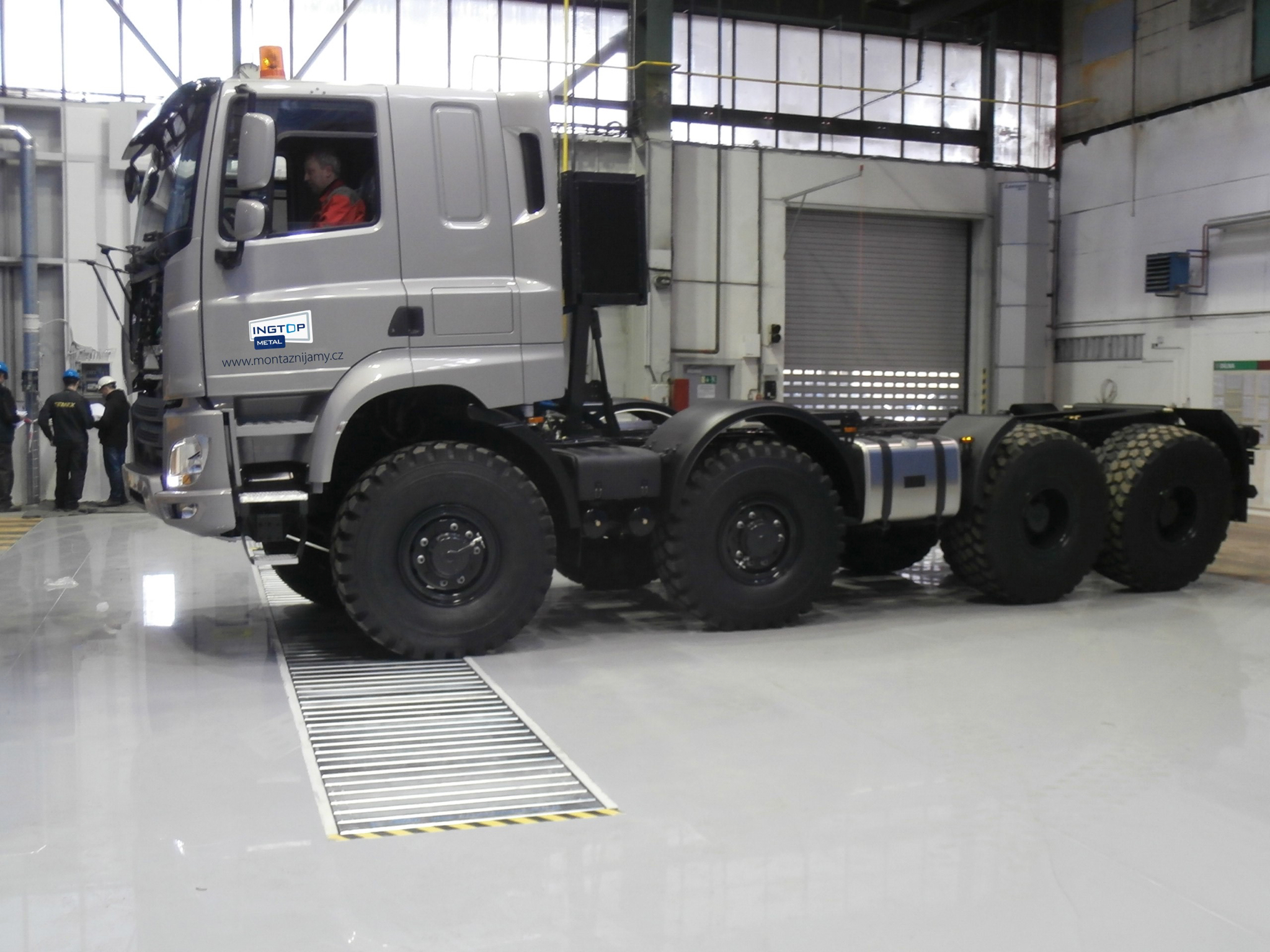 ---
Basic Equipment of the Service Pit
ELECTRICALLY CONTROLLED ROLLER SHUTTER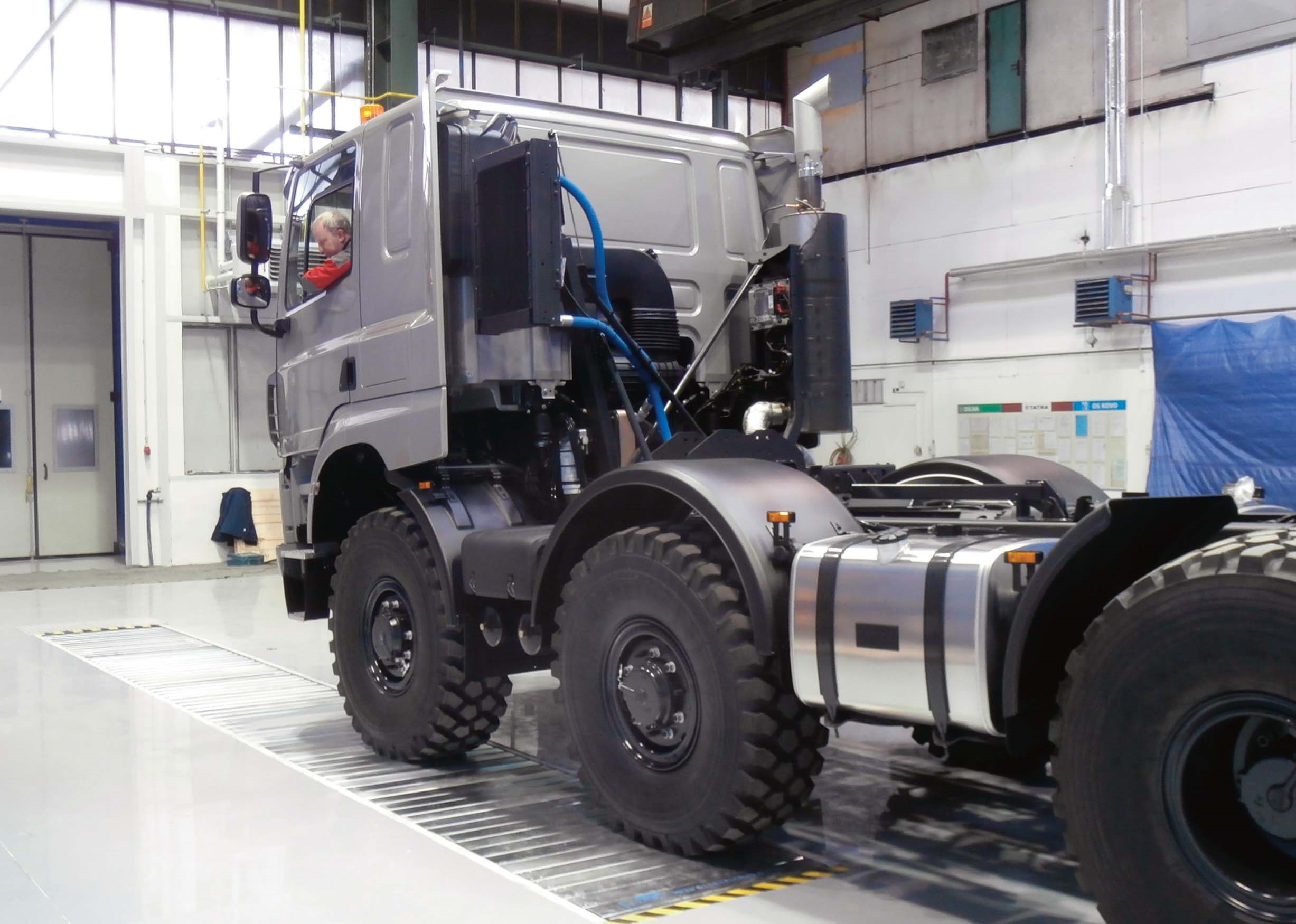 The roller shutter ensures prevention against fall of people to the service pit and enables
to drive the vehicle over the service pit by its all length and width.
It is delivered including an extension for a roller shutter, drive mechanism, stainless rails, zinc-coated sleepers and covering of roller shutter drive mechanism. The roller shutter is a travelling retractable roller shutter that consists of jackets, pins and rollers.
It is used for covering of the service hole after the end of service works. Inside the extension there is placed a driving mechanism that drives the roller shutter. The system is adjusted as follows: when opening the roller shutter the fresh air supply to the service pit is automatically switched on and thus the possible exhaust pollutants are vented out of the internal areas.
The load of the roller shutter is statistically calculated for load of 3 t per one wheel so it is possible to drive over the closed service pit by the truck tractor with the maximal speed of 5 km per an hour.
AIR-CONDITIONING EQUIPMENT
• Fresh air supply (DN 100) according to ČSN 73 6059 – 3.
COMPRESSED AIR DISTRIBUTION
• 2 – 8 connecting points + distribution
ELECTRICAL INSTALLATION
• Lighting – 4 – 18 pieces of swivelling lamps
• Plug sockets – 2 – 8 pieces 230 V
• Cables
• Circuit breakers – 2 pieces
• Installation
• Review and electro documentation
• Electrical switchboard
• Sludge pump for discharge of dirt from the service pit
OTHER EQUIPMENT
• Stairs with 7 steps, length 1,5 m – 1 piece (one step height 188 mm)
• Ladder – 1 piece (entry side)
• Grid flooring with a sump
• STYRODUR insulation of 20 mm thickness – light blue
• Basic and top coating (finish coat RAL 7035a, finish coat inertol Sika poxitar F- shade 9017)
PACKAGING
• Wooden blocks
• Ascendable wooden covering
• Foil covering
OTHER SERVICES
• Documentation elaboration – drawings of main assemblies, technical report, electro
project, air-conditioning, diagram of connecting points
• Elaboration of construction readiness documentation – it is not designated for building
approval
• Cooperation with construction designer
• Service pit loading
• Supervision prior to concrete works (necessary condition for guarantee observance)
• Consultancy regarding selection of diagnostic equipment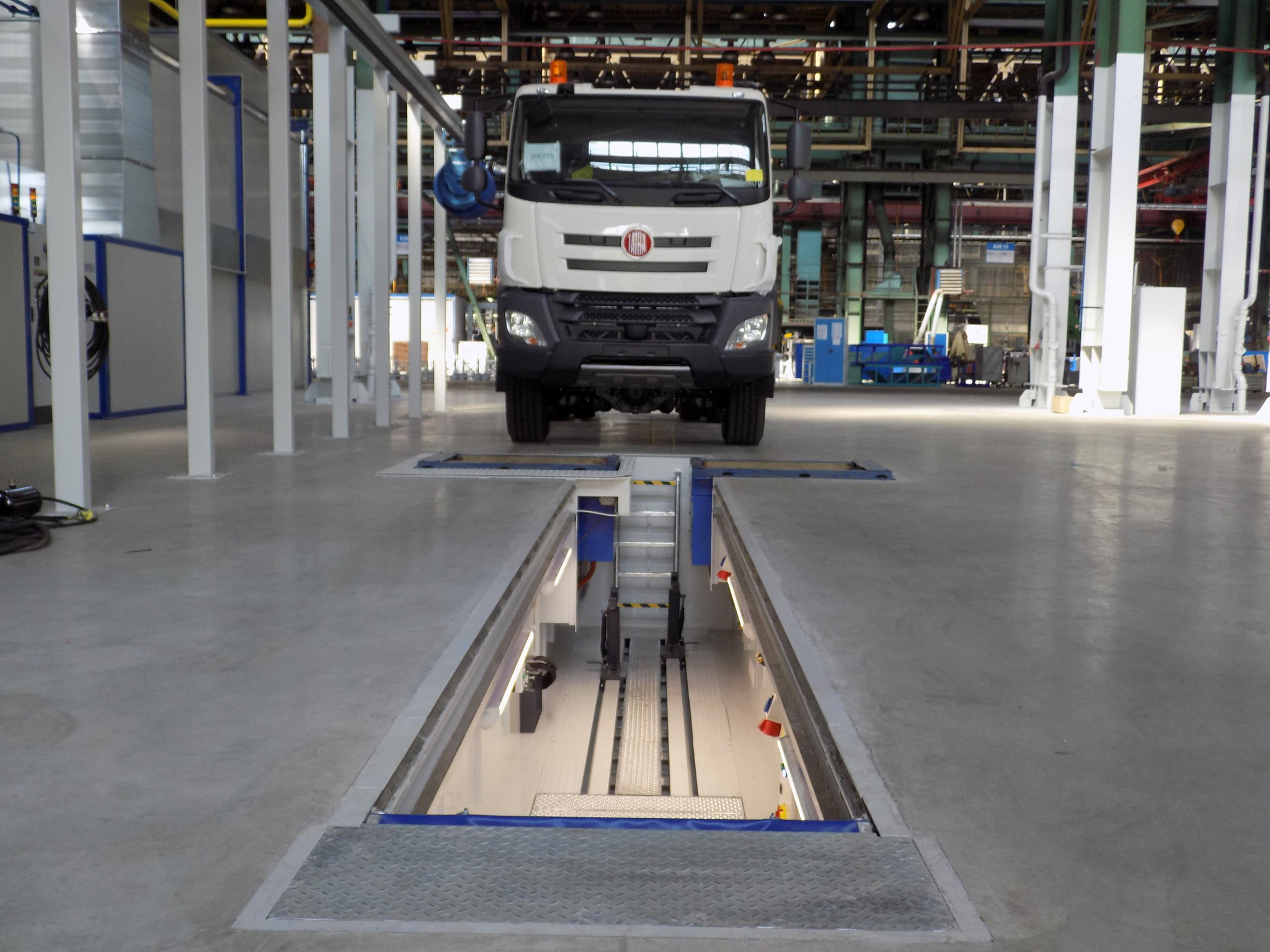 ---
Additional equipment of the service pit for extra costs
BRAKE EXTENSION FOR A BRAKE BENCH
The brake extension is designated for storage of technical equipment of brake bench adjustment; it is produced from steel plates and sections. The brake bench is designated for measurement of:
• Left / right brake force
• Left / right rolling-resistance force
• Ovality level
• Front and rear brake efficiency
• Total brake efficiency of the vehicle
• Parking brake efficiency
AXIAL EXTENSION FOR CLEARANCE DETECTOR
The axial extension is designated for storage of technological equipment for geometry alignment of wheels. The axial extension of the service pit is produced from steel plates and sections. Inputs for electrical installation and drainage of liquids are made in the axial extension of the service pit.
Individual stages of construction readiness
PLACING THE SERVICE PIT ON THE BASE PLATE AND SCHEME OF CONCRETE WORKS
1st stage –excavation pit realization
2nd stage – base plate preparation
3rd stage – placing the service pit on the base plate
4th stage – connecting of the service pit with the service floor
---
---