Heavy duty tyre changer suitable for truck and heavy duty wheels with 14″-46″/58″(1) rim (max. wheel diameter 2300 mm./90,5″, max. wheel width 1100 mm./43″). Equipped with two-speed hydraulic clamping chuck and movable control unit, for safe and convenient operation. Suitable for both tube and tubeless tyres.
---
Functions
Hydraulic movement of clamping chuck holding arm (up-down);
Hydraulic travel movement of operating arm carriage (left-right);
Operating arm manual tilting and travelling on carriage;
Double tool (disk + finger) manual rotation;
Wheel clamping by fully hydraulic operated jaws;
Operating arm and clamping chuck arm facing each other;
All motions controlled by consolle and pedal box;
Emergency safety button on control console, for stopping all functions;
Suitable for control consolle installation on pivoting arm (optional);
Rim center hole clamping range ø 80 – 1200 mm;
Clamping chuck minimum height from ground 315 mm (center);
Suitable for remote control installation (optional).
1) For the rims from 47″ to 58″ it is necessary to use the optional set of 4 jaw extensions for clamping wheels from 47″ to 58″.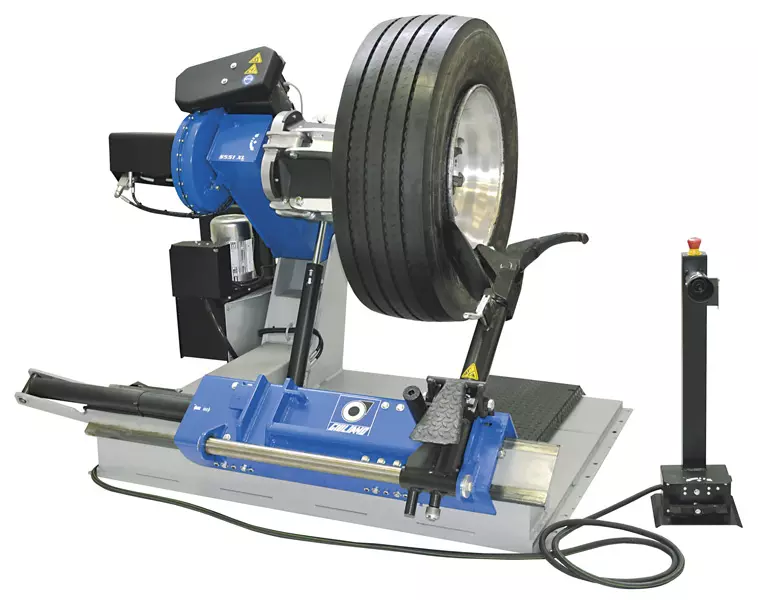 ---
---







---
Manufacturer's website : Giuliano
Product website : Giuliano – S551
Product PDF : Giuliano – S551