---
Dimensions
(CUSTOM-MADE POSSIBLE)
 STANDARD :
Lenght: 7,1 – 8,2 – 9,4 m
Width: 4 – 4,5 m
Heigth: 3 – 3,3 m
---
Access
Three-part entrance with large windows off which the central part is personnel door.
Sectional folding door
Drive through booth
Roller shutter door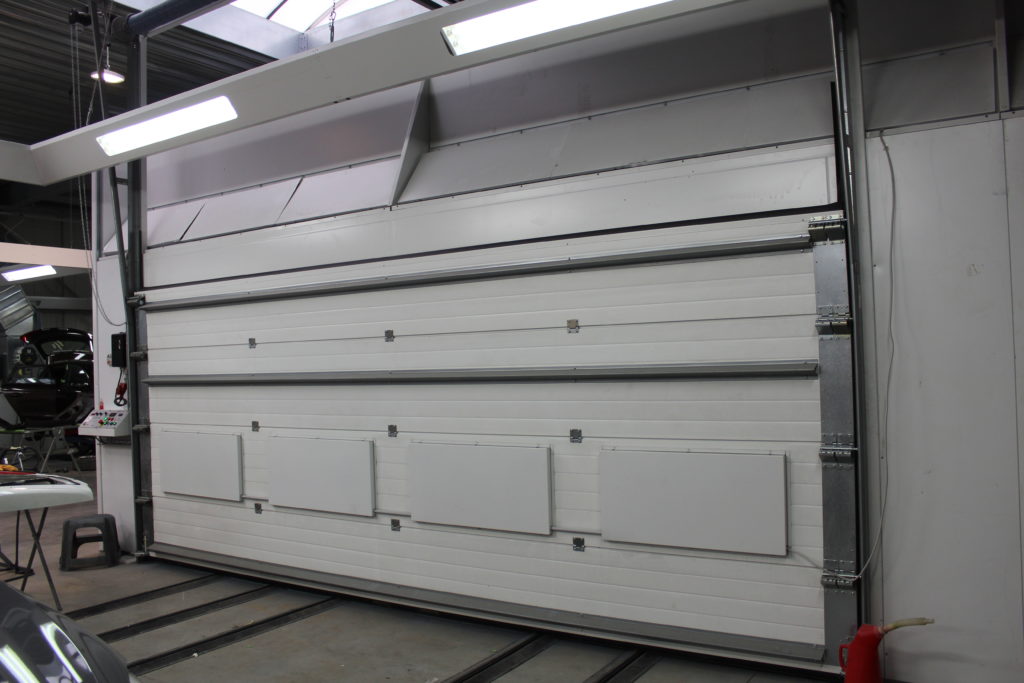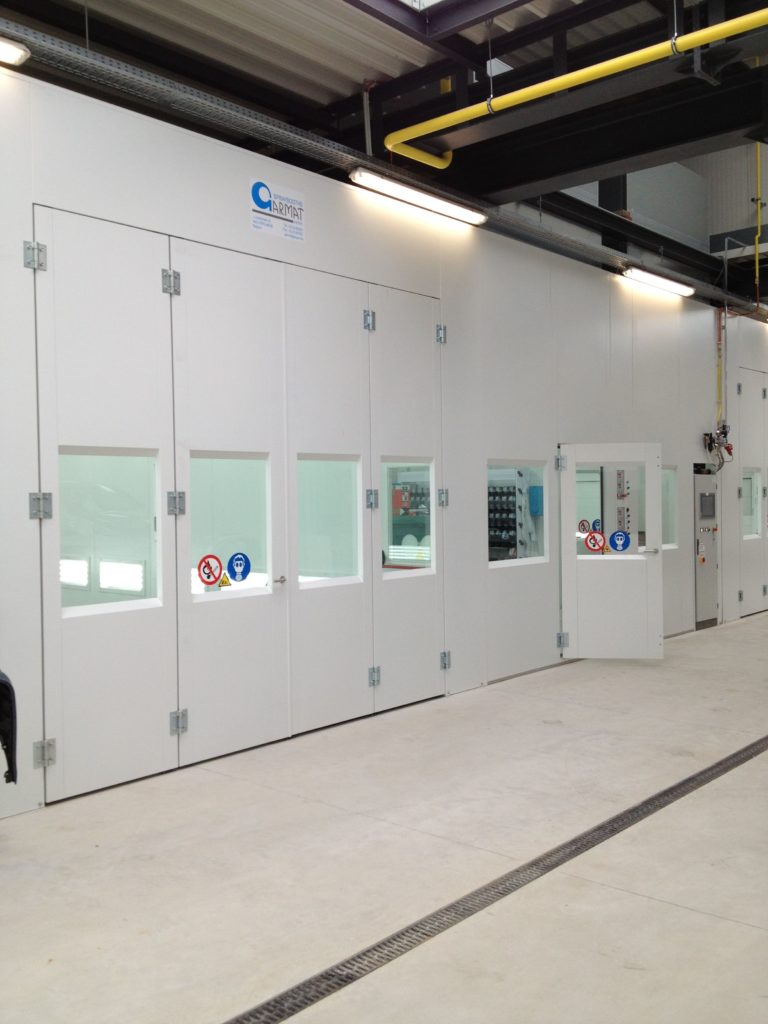 ---
Booth
  The patented shape of the 'Colorado booth' has inclined side pabels, which brings different advantages; very smooth air flow following the shape of the car, top lights are inclined towards the vehicule, and a higher air speed.
The cabin is build with in house made glued sandwich panels filled with mineral wool (compression 90 kg/m²)
By using wool with a 90° tilted fibrous structure the fibers are transversely glued with the outward steel plates. This increases both, the solidity of the glue connections and the compression resistance, which results in a high grade and stable panel.
The plates are galvanised (275 g/m²) and powder coated which give them a vary high quality and resistent finish.
The panels are mounted in a rust free profile to prevent corrosion at floor level.
Due to our specific sandwich panel construction, there are no thermo transfers between the in-and outside of the booth.
---
Lights
Top and bottom light fittings assure a minimum of 1000 Lux.
Each light fitting features a reflector.
To reduce operation costs, each fittings is equipped with a condensator.
Hardened, laminated or wired glass.
'Cool white light' neon tubes approach daylight.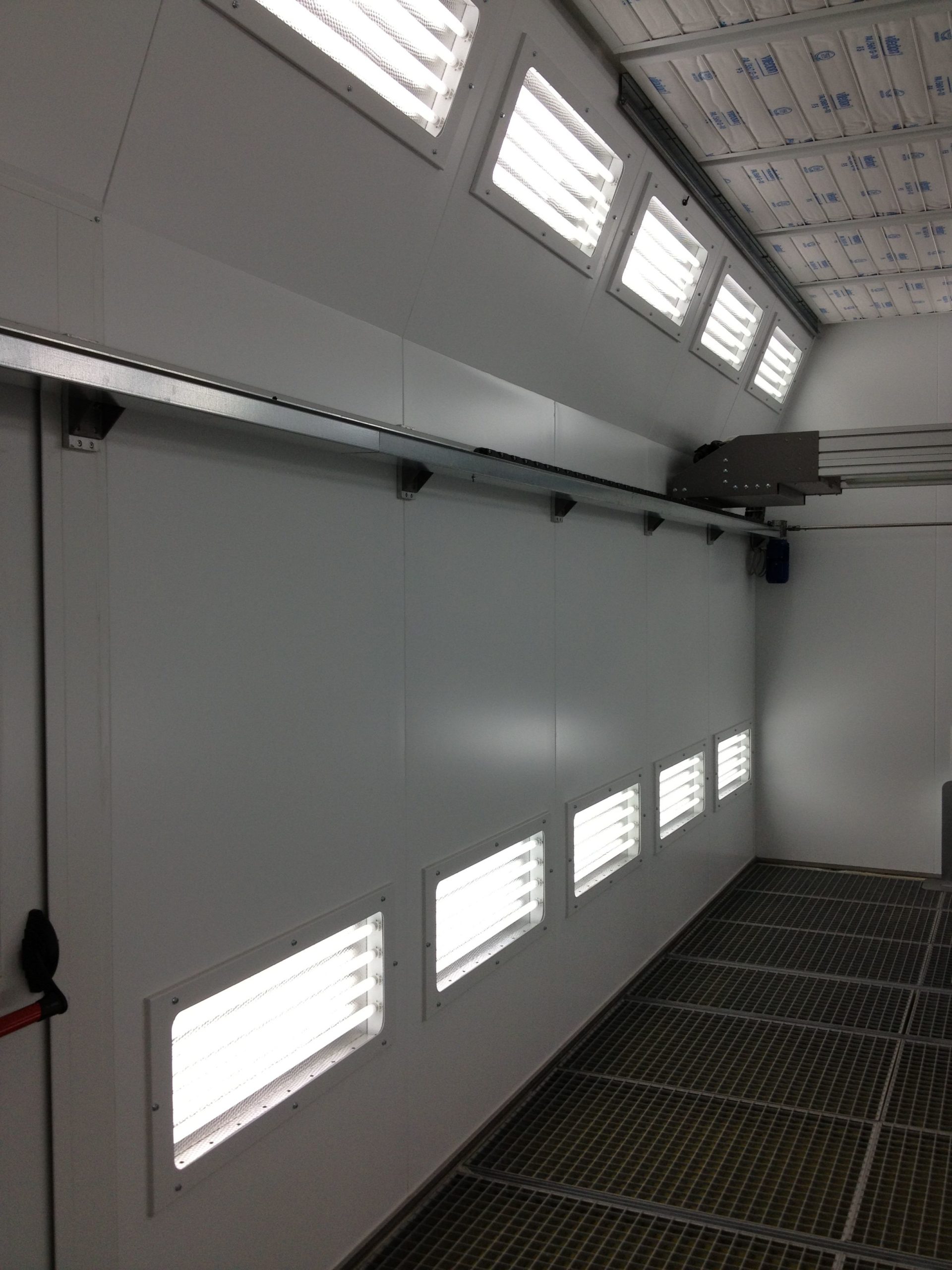 ---
Plenum and filtering

Plenum features first filter (EU2) and fine filter 'Viledon' (EU5)
Partial or complete surface inlet plenum
Equipped with patented air stream without turbulences
Plenum is insulated with 60 mm mineral wool (see 'booth')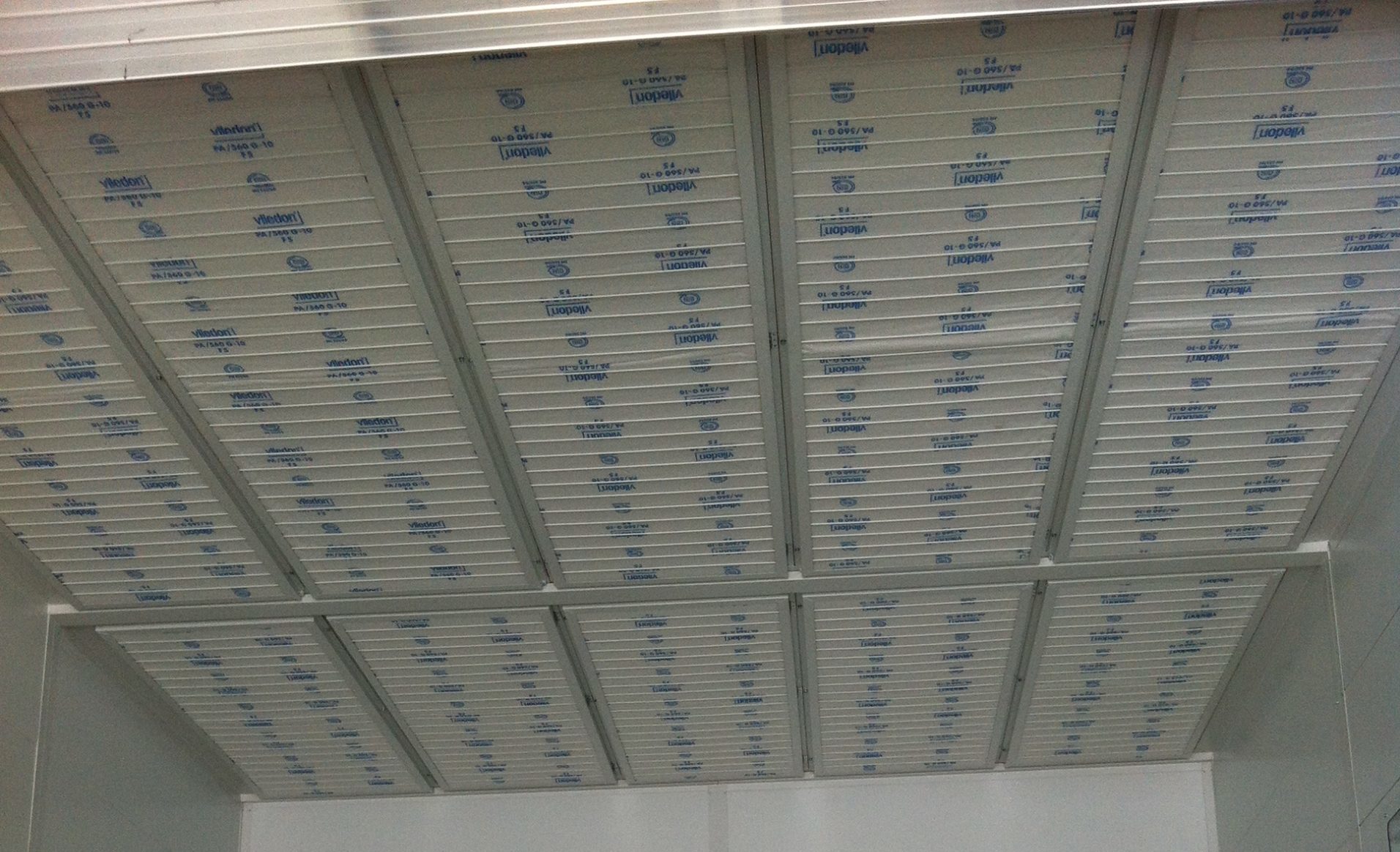 ---
Extraction
5 x 3 m central grated floor
Full surface grated floor
300 or 400 mm raised floor
Extraction channels along side walls
Extraction through rear wall
---
Air handling units

Type depends on size of booth and customer demand.
All units have fans and motors with sufficient capacity to generate the specified air flow.
Different burner systems are possible: FUEL- GAS – OPEN FLAME GAS – WARM WATER
Pressure in the booth can be adjusted through manual or semi-automatic damper.
Thermic-acoustic insulated air handling unit is build with easy removable panels.
Motors are installed outside of the polluted air flow.
Units are equipped to operate in spraying and drying mode. To economize on energy during drying, 85% of the air is re-used.
Units can be equipped with heat recuperation batteries.
---

---
Manufacturer's website : Garmat