Frank – Fixed hot water high pressure cleaner
Fixed hot water high pressure cleaner
-To oil
-Gas heating
-Electric heating
---
Oil
proven and reliable
Water heaters and oil burners with oil preheaters are a sophisticated system of high quality.
---
Gas heating
the reasonable alternative
The water heater with its gas burner is a FRANK specialty that sets new standards for cleanliness, non-polluting combustion and inexpensive fuel storage, while requiring minimal maintenance.
---
Electric heating
the solution without exhaust
The stainless steel water heater with its electric tabular radiator and pressureless hot water tank allows continuous hot water operation.
---
The gas burner sets new standards
Includes UV flame monitoring and is DVGW certified.
Precisely regulated to control constant water temperature and maintain high levels of efficiency.
---
The powerful heart
The excellent design includes motor and pump in one block. The triple-piston high-pressure pump is equipped with solid, wear-resistant ceramic plungers.
---
Problemless maintenance
All elements are arranged in a clear and easily accessible manner.
---
Safety block
SConstant user safety thanks to the technology of safety valves, flow switches, pressure/flow control valves, pressure switches, pulsation dampers and pressure gauges.
---
Stainless steel water heaters
Includes tabular electric radiators.
---
MSE-Z – Remote control
Programs :
COLD
HOT
Detergent A
Detergent B
---
STOPVARIO STOP–
Pressure switch control with switch-off delay, adjustable from 2 to 60 seconds. The additional automatic timer controls the operating status and the complete stop of the machine.
---
Oil burner with oil preheating
Expect high efficiency, automatic flame control and clean, safe combustion, even when using different grades of oil or cold fuel oil.
---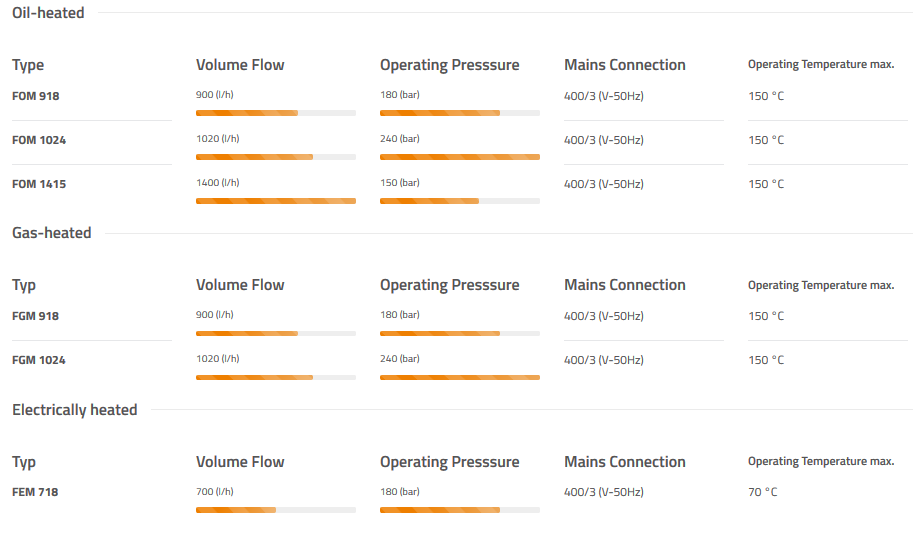 ---
Manufacturer's website : Frank
Product website: Frank – Station de nettoyage – chauffage
Product PDF : Frank-Station de nettoyage chauffage