Automatic tyre changer with pneumatic tilting column and 24" turntable
The A2025 is a fully automatic tyre changer with pneumatically operated tilting column and 24" turntable, ideal for demounting car, SUV, van and motorcycle wheels. The machine's new technical and ergonomic characteristics ensure unrivalled speed and convenience during mounting and demounting operations. The machine's key characteristics lie mainly in the turntable, the wheel bead breaking unit, and above all in the general reinforcement of the machine's structure.
Extractable pedal controls.

---
CHUCK
The standard chuck on the machine features a patented system that allows to work on all types of wheels from 10″ to 24″ by being able to move the working range from 10″- 20″ to 14″- 24″ by a simple action of the operator. Its shape has been designed to guarantee to the user, who works on large wheel diameters, an easier and quicker positioning of the wheel during beading and, above all, to keep the overall dimensions of the plate on the machine to a minimum. Height from the floor of the self-centring plate of 675 mm.
---
DISASSEMBLY PROCEDURE
The standard bead loosener on the machine has one feature: it can extend the pallet on the fixed arm. This is very useful and ideal when working with large wheels and all-terrain wheels. Moreover, the bead breaker vane is always well positioned in relation to the wheel, thus avoiding possible damage to the tyre and/or rim. This function is faster and safer. The two-position telescopic rim support (CORGHI patent) is extremely useful for beading all types of wheels up to a maximum width of 14″.
EXTENDABLE :

---
FUNCTIONALITY AND RELIABILITY –
Sliding supports with interchangeable locking zones.
Higher molten claws for better rim locking from the inside and outside. Inside and outside of the claws totally protected by plastic guards to avoid damaging the most delicate rims.
---
PNEUMATIC LOCKING –

Simultaneous pneumatic locking of the horizontal arm and the vertical turret holder with automatic positioning of the latter in the ideal working position.
---
TURRET
Turret with interchangeable plastic parts to protect the rims.
---
EXTRACTABLE CRANKSET
Extractable crankset, a great comfort for any inspection in the control area.
---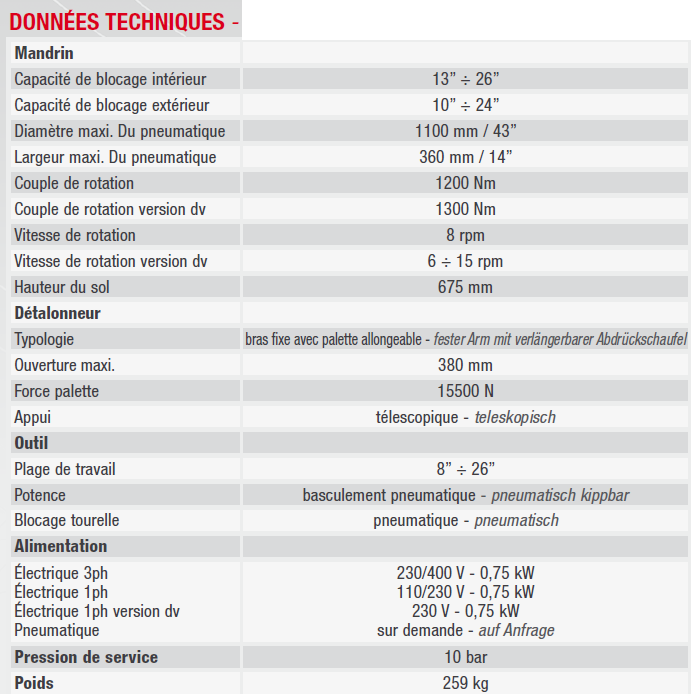 ---
Manufacturer's website : Corghi
Product website : Corghi – A2025
Product PDF : Corghi – A2025