Universal line
Our range of Universal chemicals is suitable for wash systems and self-service wash bays with an operating-cost optimisation claim. The proven formulas are tailored to their requirements and stand out due to sparing consumption together with good performance. The individual chemical products guarantee an economical quality wash.
---
SUPER FOAM
Universal Active Foam
SUPER FOAM (U) produces a rich, fine-pored foam in the wash system. As a result of the soaking effect, this foam product prepares the vehicle for the main wash. The floral scents integrated in the foam have a positive, refreshing effect on the wash experience.

---
INTENSIVE WASH
Universal Active Shampoo
This brush and textile shampoo thoroughly cleans the vehicle and in doing so helps to keep the washing material clean. With INTENSIVE WASH (U), the vehicle is prepared for drying, because only wax-compatible tensides are used. The fresh fragrance increases the appeal of your wash system.

---
ACTIVE DRY
Universal Gloss Drying Aid
This drying agent stands out due to its fast cover, resultant shine and attractive drying results. Consumption is also extremely sparing due to the targeted formula. ACTIVE DRY (U) can be used in all wash systems, and in self-service wash bays.

---
PROTECT WAX
Universal Gloss Conservation
PROTECT WAX (U) ensures targeted preparation of the paint  for subsequent vehicle drying, through the use of a range of care  components. This wax can be applied warm or cold, and delivers visible shine to the vehicle paint, as well as good protection.

---
FOAM WAX
Universal Foam Wax
FOAM WAX (U) offers good shine and protection of the vehicle surface. Through the use of a wide range of care components, this foam wax delivers visible shine to the vehicle paint. When applied with foam wax spray nozzles, the car wash customer experiences the wax application as a protective foam.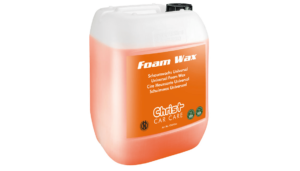 ---
Manufacturer's website : Christ
Product website : Christ-Universal-Line