Kaeser – Heatless regenerated desiccant dryers from 1.17 to 154.53 m³/min

Heatless regenerated desiccant dryers from 1.17 to 154.53 m³/min
---
Efficient and reliable to PDP −70 °C
The powerful desiccant dryers of the DC series, including both compact and large models, shine thanks to extremely low service and operation costs whilst easily overcoming the most challenging operational conditions. In particular, their minimal regeneration air requirements and the ECO-CONTROL energy-saving controller ensure rapid amortisation of investment costs.
PDP to −70 °C
Flow rate 1.17 to 154.53 m³/min
ECO CONTROL BASIC or ECO CONTROL with innovative, trend-detecting pressure dew point control (E-Pack option)
Can be optionally coupled to an ACT activated carbon adsorber, for technically oil-free compressed air to meet the strictest requirements
---
Your advantages
Low operating costs:
Desiccant dryers from the DC 12 model and higher feature extremely low regeneration air requirements – thanks to optimal flow dynamics through the high-quality desiccant. Moreover, the resulting heat from the adsorption process is channelled into the regeneration process.
Energy-saving, intelligent control:
The ECO CONTROL controller included in DC "E-Pack" versions is load-independent and employs the highly reliable trend-detection method for dew point control, which delivers maximum energy savings.
Inexpensive service and maintenance:
DC dryers are constructed using high-quality, extremely durable components. Inlets, outlets and filter housings are easily accessible whilst disassembly and cleaning of the silencers is highly straightforward.
---
The perfect partner: the AQUAMAT oil/water separator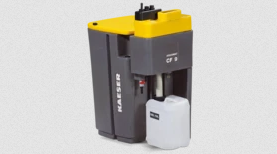 Our tip: Take advantage of cost-effective, legally-compliant treatment of condensate before drainage into the regular wastewater system with AQUAMAT oil/water separators.
---
Combination with activated carbon adsorbers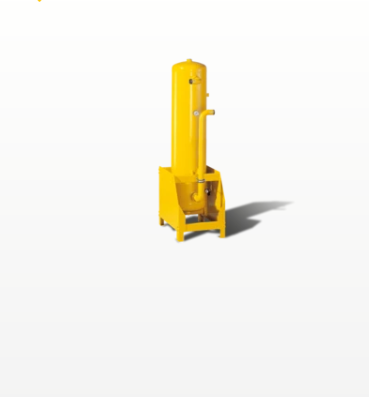 From the DC 12 and upwards, dryers are equipped with ACT activated carbon adsorbers that are precisely tailored to output. This enables production of oil-free compressed air that meets the most stringent standards (concentration range from 0 to 0.01 mg/m³).
The frame design of compact desiccant dryers up to the DC 133 makes connection of the ACT activated carbon adsorber simple.
---
Design and Function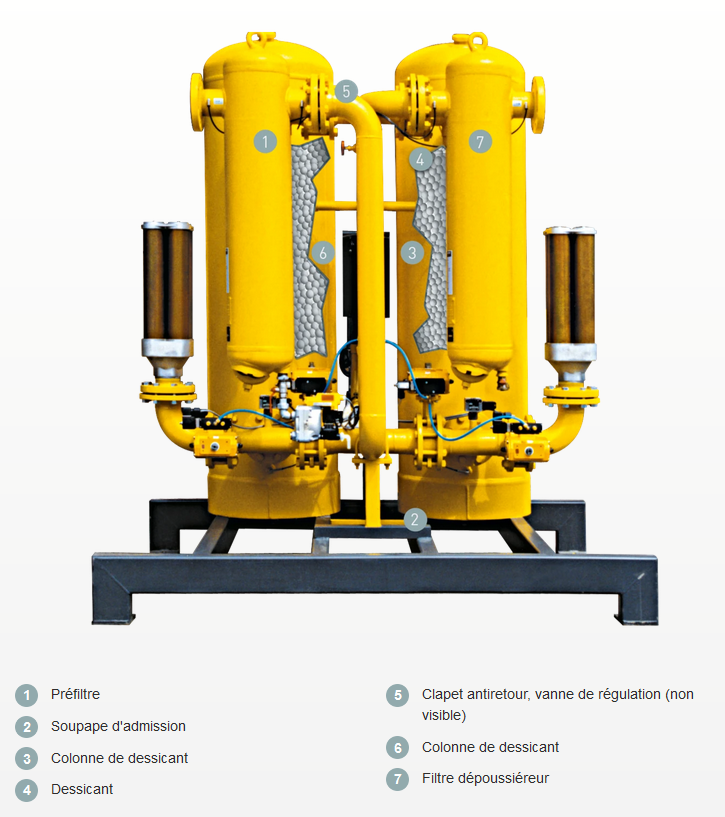 ---
ECO CONTROL – Trend-detecting dew point control
ECO CONTROL significantly reduces energy consumption through variable flow volume, pressure and temperature parameters. The trend-recognition dew point control is less expensive and more reliable than conventional dew point control concepts.
It responds to temperature differential changes in the desiccant; in other words, much earlier than systems that do not respond until the pressure dew point rises at the dryer discharge point.
New measurements and relative temperature differential comparisons are carried out for each new cycle.
As chamber switch-over occurs only after the desiccant has been used to its full potential, each drying phase can be extended by up to 30 minutes, depending on load, resulting in regeneration air savings.
The Kaeser system not only makes a costly pressure dew point measuring device superfluous,
but also eliminates the associated regular calibration and maintenance costs.
Unlike dew point measuring devices, temperature sensor functionality can be easily checked thanks to reliable open circuit monitoring.
---
Product PDF : Kaeser-Dessicant-dryer