Premium line
Our range of Premium chemicals satisfies the highest claims in the wash sector. The high quality formulas developed by our research department are perfectly tailored for the requirements of modern wash centres. They are outstanding due to their extremely sparing consumption combined with top performance, resulting in optimised costs per wash. The individual chemical products guarantee gleaming washing results with maximum power.
---
TWIN FOAM
Hybrid foam premium

Innovative hybrid product with fresh alpine fragrance: It impresses on the one hand due to a fine-pored foam, whilst also being suitable for use as a brush shampoo. TWIN FOAM is particularly recommended for wash systems with Vitesse or Protect-Shine-Xpress equipment.

---
SUNRISE FOAM
Intensive scent foam premium

This highly concentrated and heavily foaming fragrant foam is particularly well-suited for self-service wash bays with XXL foam lances, as well as wash systems with foam fan nozzles or foam walls. SUNRISE FOAM guarantees car wash customers an intensive foam experience.

---
FOAM REX
Insect foam premium

This innovation in the foam segment combines two functions in a single product: FOAM REX produces a fine-pored foam and acts as an insect remover in parallel with its special formula. The insect foam can be specifically offered as a seasonal campaign wash with our promotional materials.

---
BLASTER
Hydrophobic premium shampoo

High-level shampoo with paintcare formula for foaming deepshine vehicle cleaning. BLASTER repels water and delivers the "Rain-Ex Effect". The subsequent vehicle drying is optimised. BLASTER can also be used as a foaming polish.

---
FOAM GLOSS
Foamed gloss polish
FOAM GLOSS is a foam-shine polish, developed for use in polish spraying systems. Following application, the product is massaged into the paint by the downstream textile elements in the wash sys tem, ensuring paint cleaning with shine optimisation.

---
CHRISTAL GLOSS
Nano gloss wax

Special wax hybrid product with nano effect. CHRISTAL GLOSS can either be applied with the polish spraying system and subsequently massaged in with textile elements, or alternatively used as a special wax at the protection arch. The vehicle enjoys long-lasting protection.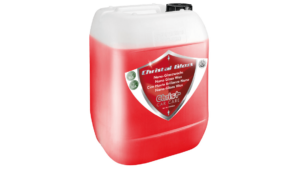 ---
PROTECT SHINE
Nano gloss polish

High-gloss polish with molecular nano effect and sparing consump tion. The water-soluble polymer deposits on the paint surface and spans minor scratches and irre gularities (repair effect). PROTECT SHINE can be effectively marketed as premium paint protection with our promotional materials.

– 1 –
External influences wear the vehicle paint. The shine reduces.
– 2 –
PROTECT-SHINE is massaged in and spans the irregularities.
– 3 –
With regular use, an increasingly thick protective layer builds up.
– 4 –
The paintwork becomes increasingly smooth and gleams with new premium shine.
---
PREMIUM DRY
 Premium Gloss drying aid

High-level drying agent, which stands out due to its sparing consumption, quick and comprehensive cover, as well as excellent drying results. PREMIUM DRY delivers long-lasting water-repellent action with shine effect and a clear view through the windshield and side windows.

---
ALPINE WAX
2 in 1 Premium Conservation

2-in-1 premium protector, which can be applied as a foam wax or as a spray wax (cold / warm). ALPINE WAX with its paintprotection formula guarantees high-gloss sealing with longlasting and water-repellent effect. Our promotional materials conveythe "value preservation of the vehicle".

---
Manufacturer's website : Christ
product website : Christ-Premium-Line